"Shadows" – Chapter 6
Writer: Sam Hamm
Artist: Joe Quinones
Color Artist: Leonardo Ito
Letterer: Clayton Cowles
Review by Eric Lee
Minor Spoilers Ahead!
Batman '89 #6 concludes the mini-series with a surprisingly emotional, albeit subdued, ending.
The most interesting takeaway from the final issue of the Michael Keaton Batman revival is how writer Sam Hamm inverts normal action story structure. Typically, an adventure comic lays the plot out for everything to lead up to a big wham-bam, action-packed showdown. However, Hamm wisely subverts expectations and goes smaller and more intimate. This becomes less of a standard Batman fighting adventure and more of a philosophical debate between Bruce Wayne and Harvey Dent.
Two-Face's New Twist
The way Hamm utilizes Dent and puts a unique spin on the Two-Face concept is refreshing. The idea of Harvey believing in alternate realities based on your choices allows the story to go into bittersweet, and ultimately tragic areas. Not to say Two-Face is the only antagonist, as Batman also has a bit of a philosophical showdown with Catwoman as well. The ending is so unusual, but ultimately very satisfying.
Perhaps the biggest downside is that Winston Duke's Robin character doesn't figure in the finale scene. While he does play a role in the issue, it's unfortunately not as impactful in the conclusion.
The series also suffers from having only 6 issues to tell a story. In an age where comics are generally decompressed, Hamm packs so much plot into each issue of Batman '89, that everything occurs at a breakneck pace. While it makes the story dense, it also does not allow the moments to breathe. Like, how does Two-Face feel that he just discovered Batman's secret identity? We cannot dwell on it too much for the purposes of plot advancement.
Still, the whole issue looks amazing thanks to artist Joe Quinones. He is the primary reason for the issue coming out so late, due to the artist catching COVID. However, his art was well worth waiting for. His likenesses of all the characters are spot-on, without being slavish to them. Each page feels lively and energetic, with a perfect amount of cartoony appeal. Quinones' love for the Tim Burton Batman movies is apparent in his art.
Conclusion
Batman '89 #6 offers an emotionally satisfying ending. Some readers may be confused about the general lack of action or the fast pacing. The comic shows Batman, but the art and the plot alone should make up for the structure.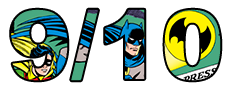 Images courtesy of DC Entertainment