Sideshow Collectibles presents a zany new Batman vs. Joker fine art print by up-and-coming concept artist Alex Pascenko.
For our next guest…
There's always something especially appealing about seeing Joker in his element. If he's having fun, then so are the fans! This new Batman vs. Joker fine art print is full of the detail and color that make for a classic contest between the arch-rivals.
Lights, camera, action! Sideshow Art Prints presents the Batman vs The Joker Fine Art Print, a jovial and justice-filled DC Comics art print by artist Alex Pascenko.
Filmed in front of a live studio audience, you're watching The Joker's very own talk show! Our first guest is none other than the vengeful vigilante Batman, who doesn't see the humor in the villain's hosting. As Joker Toxin fills the floor, the smiling faces in the stands would all agree that this battle between two iconic Gotham City titans is a total laugh riot.

Even though the "Applause" sign is dimmed, The Joker can't help but give Batman a buzzing hand for his help in making this episode a smash hit. And craft services even provided a dynamite cake to celebrate the occasion. Thanks for tuning in — we really couldn't make this show happen without the victims at home just like you!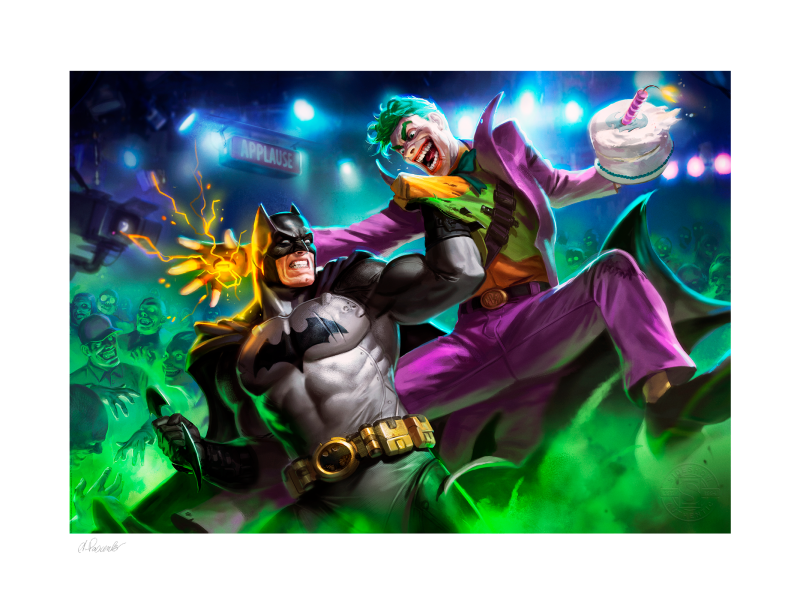 Each Batman vs The Joker Fine Art Print features an authorized, automated artist signature and an embossed Seal of Authenticity as a part of the limited edition of 375 pieces. Commemorate the Clown Prince of Crime's latest scheme with the unframed giclée or custom framed presentation of this must-have Batman art print for fans.

What's that? Cut to commercial? Well, folks, we'll be right back — but before we go, be sure to bring home the Batman vs The Joker Fine Art Print by Alex Pascenko for your DC Comics collection.

Manufactured by Sideshow Collectibles
Images and press release courtesy of Sideshow Collectibles