"Interlude"
Writer: Tom King
Artists: John Paul Leon, Bernard Chang, Shawn Crystal, Mitch Gerads
Color Artists: Mitch Gerads, Dave Stewart
Letterer: Clayton Cowles
Essays/Tributes: Micahel Davis, Kurt Busiek
Pinups: Lee Bermejo, Denys Cowan & Chris Sotomayor, Becky Cloonan, Klaus Janson & Dave Stewart, Rick Leonardi & Dave Stewart, Chris Batista, Dani & Tamra Bonvillain, Ibrahim Moustafa, Clay Mann & Seth Mann, Vanesa Del Rey, Dave Johnson, Joëlle Jones, Shawn Martinborough & Chris Sotomayor, Khary Randolph & Emilio Lopez, Tula Lotay, Dave Gibbons, Walter Simonson & Laura Martin, Jon Bognadove & Sian Mandrake.
Review by Eric Lee
The Batman/Catwoman Special #1 tells a comprehensive and un-muddled life story of Selina Kyle giving a sad and doomed tone to the romance between herself and Batman.
This comic is succinct when showing Selina Kyle's history and the complicated and tragic Bat/Cat romance. Readers see how certain moments inform her later values and beliefs. What's more, we also see how those beliefs contrast with Batman's. The contrast between the two characters is much clearer than what we've seen in the main Batman/Catwoman book and casts a sad shadow over the love affair, implying that it's a doomed romance.
This comic works well in getting readers to understand and sympathize with Selina. However, writer Tom King also falls into the trap of building her up by tearing Batman down a little. In certain scenes, the Dark Knight comes off as manipulative and emotionally distant. In others, he's downright tyrannical. I wish that we didn't need to see such unflattering interpretations of Batman to make Selina seem "better".
Beyond clarifying the doomed romance theme, the special also gives a brief history of Catwoman's life. Readers of the main Batman/Catwoman comic have seen references or bits and pieces of her past. However, the main book often bounces between eras so much that it's easy to lose track. Here we finally get a definitive, linear timeline. Even though the issues are cut into short segments, it lays out her life story in a way that gives readers a better sense of the history in the main book. This one-shot is a perfect companion piece for the main series. It may not be an essential read, but it sure adds a better understanding and appreciation of the main comic.
In fact, the biggest complaint is that this one-shot should have been released before the main series, perhaps as an issue #0. The main comic wouldn't have been so confusing if readers understood where certain events occurred on the timeline. It would have freed up the readers from the guesswork of the sequence of events and allowed them to become more engaged in the overall narrative.
John Paul Leon on Batman/Catwoman Special #1
It would be a shame not to discuss the art in this issue. This topic is particularly special since the main artist, John Paul Leon passed away suddenly while drawing this book, making this the artist's last work. However, DC did an amazing thing and gathered Bernard Chang, Shawn Crystal, and Mitch Gerads to complete the story in his style. The level of craftsmanship in complementing Leon's visual look is beyond impressive. The art's very cohesive, which is shocking for a comic that has four different artists.
As far as Leon's art: it looks amazing. It's a blend of the cartoony and the realistic, which is perfect for a story that blends real-life settings with fantastical superheroics. Leon's art will be missed. Speaking of which, the second half of the special is full of touching tributes from other artists and writers. My favorite art piece is by Clay Mann, who completely changed his style to pay homage to Leon. The special also reprints John Paul Leon's Batman Black and White and Question short stories.  A great send-off for the artist.
Conclusion
The Batman/Catwoman Special #1 is an excellent examination of Selina Kyle's life. It shows how different she is from both Batman and Bruce Wayne in an interesting way. Furthermore, the art by John Paul Leon and the three other artists is a visual feat for men who typically have different art styles. I imagine that Leon would be proud of how his last published work ended up.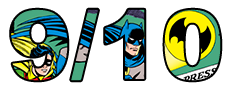 All images are courtesy of DC Entertainment.