James Gunn recently shared a photo on Instagram of David Dastmalchian and his stunt double suited up in Polka-Dot Man's costume. In the caption, Gunn explained a bit more about the suit itself.
As we're just days away from the release of The Suicide Squad, the anticipation is making my fingers tingle! Gunn is really feeling the hype too, and has been showing a lot of love to the stars of his latest film.
Happy Birthday to my great friend, the Polka-Dot Man himself, @dastmalchian. I'm so pleased to see all the early critics gushing over his performance – a beautiful, sad outsider full of heart. Here he is on the set of #TheSuicideSquad with his stunt double @lonehart_stunts. For an extra treat zoom in on this photo to see the complexities of the Polka-Dot Man uniform designed by Judianna Makovsky.
Gunn's first reason for posting the above photo is in celebration of Dastmalchian's birthday (which Dastmalchian gave a sweet reply to). However, Gunn also encourages fans to zoom in on the photo itself to see the "complexities" of the Polka-Dot Man costume.
Zooming in
Aside from the iconic colorful dots themselves, there are definitely a number of details to observe in the costume. The jumpsuit is made of several panels and seems possibly to be made of suede? Maybe a pleather? At the very least, the material looks durable.
Abner of course wears the iconic aviator cap and goggles that remind me so much of Willy Wonka. I'd already noticed the red tint of the lenses, but it's interesting to see the hinge mechanism. This implies to me that the glasses themselves can be lifted while the hood stays on, an important detail for cosplayers.
The suit also has two zippers on the chest piece, as well as double neck snaps. The previews show how Polka-Dot Man's dots flow out from him, so perhaps the dots conjure up air, or energy, and all the suit's extra fastenings are meant to keep him protected?
Finally, Abner's greaves or braces on his arms are clearly visible in this shot. I'm honestly puzzled as to their use and practicality, but the costume itself does look amazing with the arm décor.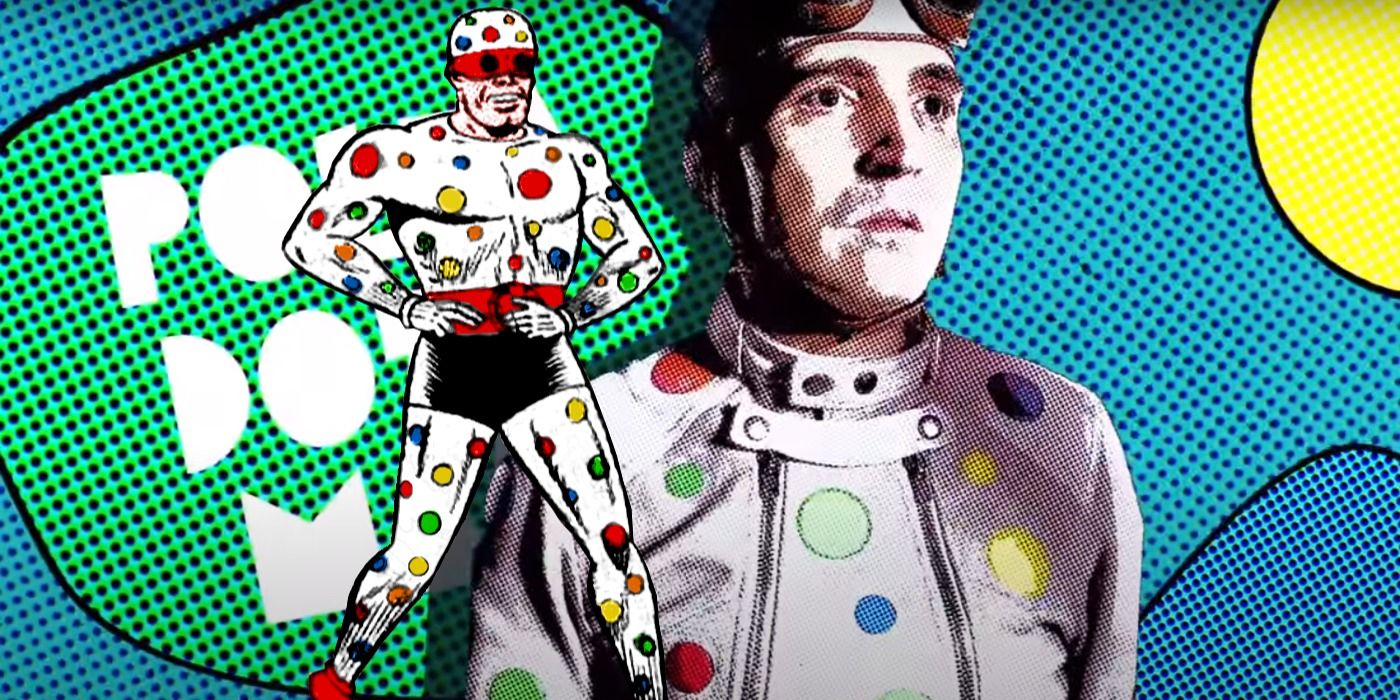 I'm Just Dotty About The Polka-Dot Man
This costume is going to look stunning in action, and I can't wait to see all the brilliant colors that Abner Krill/Polka-Dot Man/David Dastmalchian brings to the screen.
As a final note, I personally also want to extend a belated happy birthday wish to Dastmalchian, even if he never sees it. I can't wait to see what you bring to the character of Polka-Dot Man and his complexities. Thanks for bringing this hero to life.
The Suicide Squad will debut in theaters and on HBO Max on August 6, 2021.
Images may be subject to copyright