"The Cowardly Lot" – Part Five
Writer: James Tynion IV 
Artists: Jorge Jimenez & Ricardo Lopez Ortiz
Color Artist: Tomeu Morey
Letterer: Clayton Cowles
Review by Max Byrne
Batman #110 is action packed with a capital "A". Brutal, hard hitting and a feast for the eyes, the narrative moves along at a breakneck pace. Featuring one of the most visceral hand to hand fights in recent memory, this is one for the action junkie inside all of us. James Tynion IV is a master storyteller, but boy can he write an action scene!
Picking up from the denouement of issue#109, which made the reader privy to the early exchanges of the Batman/Peacekeeper-01 fisticuffs, this issue dives straight into the fray, and what a treat it is! Every blow is massive, the pain is tangible, the injuries are serious. What really comes through though, especially when viewed through the prism of the Future State era, is that the stakes are high, and Batman could possibly be outmatched here. Whilst we're mostly accustomed to seeing the Dark Knight take control of his altercations, this feels different, as though it is a fight where he truly is in over his head.
Without wishing to dive into spoiler territory too much, the resolution of this fight sees the kind of outlandish aerial stunt that even Tom Cruise would think twice about attempting. Death defying, dangerous and spectacular, it has to be seen to be believed. For a character that's well versed in traversing the Gotham skyline, this is next level stuff. Of course, it helps to call in a friend like Ghost-Maker in these situations. I guess that's what frenemies are for.
Speaking of frenemies, these are dangerous times for the Unsanity Collective. With Peacekeeper-01 showing his tendency for going off-script and succumbing to his sadist tendencies from his pre-transformation life as an Arkham Asylum guard, one feels as though that particular motley crew are on a road to pain and suffering. All roads point towards a high body count in the next handful of issues, and it's a testament to Tynion's writing prowess that he's able to ramp up the tension to such breathtaking heights. I'm fully onboard for this current arc as each issue provides so much in the way of action, narrative progression and character development. Whisper it for now, but this current era could well be up there with the absolute best.
As always, the Jimenez/Morey/Cowles trio are firing on all cylinders here. Every page of Batman #110 bursts with vitality, colour, vibrancy and emotion. The visual team on this title are at the very top of their field right now, making every new issue of Batman an absolute treat to consume. The aforementioned action sequences are so involved and so harsh, they burst off the page with a snap! Long may this creative team continue.
The bonus story once again continues the 007-esque adventures of Ghost-Maker as a prequel story. Outlandish to say the least, there's a lighter tone to the character here that does work well. We get a heady mix of humour and violence, these brief instalments are a lot of fun and serve to add an extra layer to the character.
Conclusion
Batman #110 is a marvellous read. It covers all the bases of my particular proclivities when it comes to comic books. Action, story, character – it has it all. As we march towards the reveal of Scarecrow's plot, Tynion has placed the pieces in the correct position and the stage is set.
The future looks bleak, it looks harsh, but Batman endures. Bring on issue #111.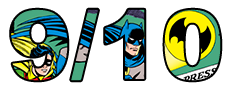 Images Courtesy of DC Entertainment