Writers: Meghan Fitzmartin, Matthew Rosenberg, Camrus Johnson, Chip Zdarsky
Artists: Eddy Barrows, Ryan Benjamin, Loyiso Mkize, Marcus To
Color Artists: Adriano Lucas, David Baron, Luis Guerrero, and Antonio Fabela
Letterers: Becca Carey, Aditya Bidikar  Steve Wands, and Saida Temofonte
Review by Carl Bryan
Warning – Small spoilers follow
The new Batman anthology series continues! The Dark Knight may be the biggest name in Gotham City, but there are lots of other heroes, and villains, who get a turn to shine in Batman: Urban Legends #4.
The penultimate chapter of the Grifter story is here! Grifter's walking a deadly line between Lucius Fox and Halo's plan…can he survive the endgame? Oh, yeah… now Superman's after him!
As old wounds threaten to sabotage Batman and Red Hood's investigation into the Cheerdrop drug turning Gotham City upside down, they run afoul of Gotham's coldest criminal, MR. FREEZE! And the force behind the Cheerdrops will be banking on the former dynamic duo's demise.
TIM DRAKE has returned to the streets of Gotham City and is seeking a new purpose, but what he finds is a string of young adult kidnappings committed by someone known only as "the Chaos Monster." will Tim be able to get to the root of the kidnappings, or will he fall prey to them?   Critically acclaimed Future State Robin Eternal writer Meghan Fitzmartin returns to tell this Tim Drake story with rising star artist Belén Ortega.
Acclaimed creator and actor Camrus Johnson writes an action-packed story featuring Luke Fox – the character he portrays on the CW's hit television series Batwoman!
Superman shows up…

Grifter makes a new enemy.  In fact, Grifter is that piece of roast beef stuck in the back of your teeth that makes you desperately need a toothpick, or the kidney stone that just won't pass. I'm really not sure what Lucius Fox was thinking when he hired this guy to be a bodyguard, when he's little more than a poor man's Mel Gibson, from the Lethal Weapon films.
At any rate, how much can this battle scarred guy take from what Gotham (and now Superman) deals out?
Emotional Flashback

The baggage that Batman carries over Jason Todd is enormous, so when you see this through both Bruce and Jason's eyes, your own ones may well leak a bit. A revisit to "Death in the Family" never shook so much, and to hear the account in Jason's own words is so tough. Regret, the road too often traveled resonates in his voice in a "Good Grief… why won't I ever learn?" anthem. Bruce has quite the soft spot for the "son" that gives him the most anguish, so this all feels very biblical in a Prodigal Son type story. Very well written!
Tim…. purest of heart

I'm so glad that Tim gets his time to shine.  "You can call me Robin since Damian's not in town." I never liked the "Red" getting attached to the name anyway, and there's a lot of room on the shelf for Batman nomenclature anyway.
Incidentally, I love that Barbara works herself seamlessly into every Batman storyline in her Oracle position. Given that Lucius Fox now holds the purse strings, Batman needs her "eyes and ears" in this capacity and to let herself heal a bit!
Conclusion
Batman: Urban Legends #4 allows a richer display of the Bat Family to take center stage.  DC has provided a great playground for the Robins to take flight and for lower level characters like Grifter to take root. We see Gotham from a different perspective… that was hard to do, but this comic places a tilt of the lens to what goes on there!
My best recommendation is to go back and grab issues #1 – #4. The story lines are rich and they weave together, like a great tapestry hanging in the Wayne Manor!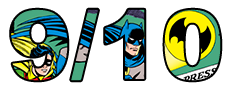 Images Courtesy of DC Entertainment