"DC Pride"
Writers: James Tynion IV, Steve Orlando, Vita Ayala, Mariko Tamaki, Sam Johns, Danny Lore, Sina Grace, Nicole Mains, and Andrew Wheeler
Artists: Trung Le Nguyen, Stephen Byrne, Skylar Partridge, Amy Reeder, Klaus Janson, Lisa Sterle, Ro Stein, Ted Brandt, Rachael Stott, and Luciano Vecchio
Color Artists: José Villarrubia, Mariss Louise, Dave McCaig, Rex lokus, and Enrica Eren Angiolini
Letterers: Aditya Bidkar, Josh Reed, Ariana Maher, Tom Napolitano, Becca Carey, and Steve Wands
As a pansexual person, I'm someone who takes pride very seriously, so seeing the growth in admiration and representation for the LGBTQIA community makes me very happy. No place is without discrimination and prejudice, but things are so much clearer now than they were as recently as just five years ago. Strong character representation and support of creators in the community is the best way forward in this mass media, story-driven world. One of the strongest beacons of love and peace I've had the fortune to handle is DC Pride.
This comic contains a cross-section of orientations and gender representatives from across DC Comics. The following reviews for the short stories in this collection will discuss the little touches of the mixed styles of writing and art, but will place a larger focus on the queer aspects.
The Wrong Side of the Looking Glass
With allusions to looking glasses and the name Alice, it's pretty evident that Mad Hatter's going to be involved in this story, in one way or another. The uncertainty we're left with, from the beginning of the tale, is what draws us into what we assume will be a mystery. Instead, we get a deep character portrait of Batwoman, overcoming the traumatic memories of the loss of her sister. The muted colors and soft linework give this tale the storybook, dreamlike qualities of both Alice in Wonderland and nostalgia-tinged memories.
Despite being about Batwoman, one of DC's most successful Sapphic characters, this story is actually about gender dysphoria. It's remarkably well handled, as it would've been very easy for those unfamiliar with the sensation to dismiss it as a story about overcoming loss – which it still is. The expectation that a girl must be feminine makes looking into a mirror and seeing an idealized version of a female on the outside when that's not who feel they are on the inside, could make them feel deeply disconnected, or even unwell at the prospect.
The story ends masterfully; as it's an easy thing to say that ownership of the self could lead to one feeling happiness, it's important to recognize that people don't always relate to who they see in the mirror, but that they're still valid and must be respected.
By The Victors
I'm a huge advocate of stories that start with the statement "you meet in a tavern", it's a personal favorite of mine. In DC Pride, John Constantine listens to the fascinating stories told by characters, some of whom I, personally, have never heard of. The visual contrast compared to the first story delivers a stark, but welcome change.
The issue of historical revisionist narrative and the erasure of queer history is a real concern, as it's something that still occurs today. Sure, there's no grand worry that it's being done literally with magic, but silencing writers and striking accounts from records still happens, and this is a truly sad loss of knowledge and growth for the community.
Try the Girl
The exploits of Renee Montoya as The Question always delight. The determination of a character who's been openly gay for almost her entire existence in comics (although not in her first appearances in Batman: The Animated Series). We see her at her stern best as the street-level detective and the determined fighter.
This story may be a Lesbian dream: the strong female hero saves a visionary female politician. At no point do we wonder about the characters' safety, as they're consistently shown as strong, layered, and real. As any heroic lead character should be.
Another Meaning For Trucks That Move Your Furniture
Harley Quinn and Poison Ivy are honestly one of my favorite queer couples in all fiction. It's perfectly natural for them to talk frankly about their relationship in the heat of battle. We can count on these two to be very antiheroic, saving the city but only on their terms.
This story taught me very important slang. Apparently, 'U-haul' refers to the, apparently common enough occurrence that it needs a term, between lesbian and bi women to move very quickly in their relationship. It's always rewarding to learn something new in this community.
He's the Light of My Life
Alan Scott has defined the power set of Green Lantern for over 80 years. It may have been unexpected or controversial to out the character for some, but this story handles very sincerely, the struggle that a lot of older members of the LGBT community struggle with. The stigma within themselves that they have to overcome, put on them by growing up in an older, intolerant time. The comparatively liberal era we live in today keeps things open and free for older gay men like Alan Scott to come out with pride.
Clothes Makeup Gift
It's a very relatable struggle to get everything lined up and ready for a big date. For the Flash, it seems like the struggle is even more reasonable. As a particularly busy queer myself, I can fully relate. I love slanted stories like this, where the fact that they're a queer couple is obvious but irrelevant. This kind of representation needs to abound to help normalize it for those who still don't understand.
I particularly love the perspectives and optical illusions at play in this story. With a character like Mirror Master, we get all sorts of strange doubles and reflections that distort our mind, as well as Flash's.
Be Gay, Do Crime
The statement "be gay, do crime" is common in the LGBT community, we wear it as a badge of honor to never be ashamed because it was a crime once. In this instance, it's wonderful wish fulfillment for superheroes to use their influence and resources to ensure safety for a queer community. Hearing that kind of marginalization happening is very real, and the fact it's a regular landowner and not a supervillain makes it hit even closer to home.
Date Night
Yet another excellent story where the fact they're a queer couple is irrelevant. We see a relatively new character in Nia Nal's Dreamer, ported over from the Supergirl TV series. The character was originally created as a trans representative in the show and has now filled comics perfectly. We see the sweeping action of a competent, welcome character and unique, stylized depiction of seeing the future. The fact that this story's written by Nicole Mains, who plays Nia on the show, is absolutely fantastic.
Love Life
There are times when people in the community are really left feeling down and ignored, especially during pride month celebrations. Seeing the majority of queer heroes come along to literally save pride is a truly sweet moment.
Conclusion
To a very strong extent, this collection of stories is heavy wish fulfillment. To another extent, we're given a cross-section of the LGBT community among DC's characters and creative talents. We get a lovely mix of stories and a delightful range of art and a highlight on many members of the community.
DC Pride #1 is a treasure of fun and inclusivity that a lot of storytelling platforms could truly learn from. Please grab this wonderful book and celebrate Pride Month with this, and the many other great DC books that have special Pride covers; most of which can be seen above.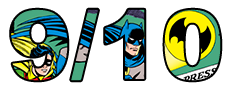 Images Courtesy of DC Entertainment