"Gotham City Cocktails"
Writer: André Darlington
Photographs: Ted Thomas
Review by Adam Ray
Whether by a good or bad reputation, Gotham City's known for its nightlife. The costumed, armed, and bizarre tear up the streets most evenings, but there's far more to Gotham than that! On occasions when you need to paint the town red, why not do it with a bit more refinement? Insight Editions have put together a truly thematic little publication that wouldn't look amiss on anyone's home bar. I would be eager to take a sip of most of the offerings in Gotham City Cocktails.
This neatly lined up book breaks down far more recipes for party-ready food and drink than I'd ever have expected. It's also been laid out in a masterful way. The nifty little tome opens with a brief history of where this novel idea came from, and for absolute newcomers to mixing – like myself – you're very neatly presented with all the things you need to get yourself started.
Let the mixing begin!
Each recipe in Gotham City Cocktails has a clear title and little line of flavor text linked back to a place or character from Gotham City. The instructions are laid out so well that one of Oswald's penguins could follow it. The gorgeous photography makes you really want to reach into the page and take one out for yourself.
Of course, not everyone is partial to a drink. Batman himself doesn't partake in alcohol, as it takes away his edge. For those who want to keep their head clear like him, there's all manner of finger sandwiches and other highly refined snack options available to sample too.
Conclusion
Gotham City Cocktails is the ultimate addition to your utility belt for any dinner party sensation. Craft something to order for all your heroic and villainous dinner guests.
I'll have a 'Cape and Cowl'.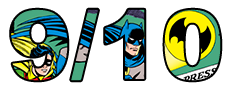 Images Courtesy of Insight Editions