Batwoman returns with Season 2 in just a few short days, but that isn't stopping new information from dropping. While there's a new person donning the cowl this season, it's the same old Gotham; which means a colorful cast of villains! Season 1 teased the arrival of Safiyah Sohail, who will be played by Shivaani Ghai in Season 2.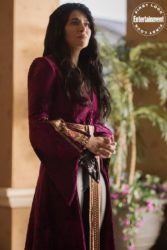 In the comic, Safiyah is the ruler of a pirate nation called Coryana who once saved saves Kate's life during her post-coming out trip around the world. While together, they became lovers, however their relationship didn't last. While elements of the story from the comics may be changed for TV, I do hope they keep the pirate parts!
It'll be interesting to see what they do with Alice this season, without Kate, what keeps her from going full-on villain? Perhaps a common enemy shared by the new Batwoman? According to Batwoman showrunner, Caroline Dries:
In season 2, Alice starts the season with nothing left to lose, so her perspective of Safiyah shifts a little bit. She's less afraid because she's got Safiyah in her sights, and what does she have to lose? Her whole plan for killing her sister went down the drain.
What's wrong with you, Victor? Talk about burying the lead. This is spectacular news!
Safiyah isn't the only villain coming to play in Season 2 of Batwoman. Victor Zsasz and Black Mask will also be joining the party. The latter, Roman Sionis, will have some interesting ties to Batwoman herself. He'll be the leader of the False Face Society who floods Gotham's streets with drugs. According to Dries:
While Ryan never used drugs, she was in a relationship where somebody was using drugs and it's ultimately what got Ryan put away in jail. So, it's this idea that Ryan is this innocent woman and if she were white, per se, she might not have had the same punishment that she, as an innocent Black woman, had to go through. That's a huge piece of her backstory, so that's something we're exploring this year. Batwoman has this particular vendetta against the False Face Society because the idea of drugs permeating the city and nobody taking any responsibility for it strikes at her core.
While we only know who will be playing Zsasz (Alex Morf), we have seen live-action iterations of both Zsasz and Sionis. Zsasz has been seen in Gotham (Anthony Carrigan), Batman Begins (Tim Booth), and Birds of Prey (Chris Messina). Black Mask has also been seen in Gotham (Todd Stashwick) and, more notably, Birds of Prey (Ewan McGregor). As a big fan of McGregor's performance, I'll be very interested to see what version of Black Mask we'll get in Batwoman Season 2.
How are you feeling about Season 2 of Batwoman? Are you excited for these new villains to come to the Berlantiverse's Gotham City? Let us know in the comments!
Images May Be Subject To Copyright