Review by Carl Bryan
Warning – Small spoilers follow
What's in this Stocking Hung By the Chimney?
Harley Quinn in "It's a Horrible Life!": Harley Quinn, feeling the Christmas blues, receives some advice from Layma, the long lost third Wonder Twin, and finds her own Christmas spirit.
Batman in "Christmas by Gaslight": On Christmas Eve, Eel O'Brian attempts to rob Grady Rothchild, a fellow billionaire of Bruce Wayne, but The Batman is not gonna let that slide. An intervention from Victor Fries leads to the crime being stopped, and a rare white Christmas in Gotham City.
Teen Justice in "To Stop The Star-Conqueress!": It's New Years Eve, and the Justice Guild of Earth-11 has been brainwashed by Starrla, the Star Conqueress. A group comprised of Laura Kent/Supergirl, Talia Kane/Robin, Jess Chambers/Kid Quick, Jackqui Hyde/Aquagirl, Donald Troy and Klarienne The Witch Girl, not yet a fully formed team, manage to save the older heroes in the nick of time, before deciding to form their own team, Teen Justice.
President Superman in "Bizarro Love Holiday": On Earth-23, President Superman creates a global holiday so that all the people on Earth can unite in empathy and understanding. Bizarro, however, "loves" the holiday because no one had ever given him anything before, so he couldn't understand it. Angry, he attacks President Superman, but thanks to an intervention by a little girl, and a gift from the heart, Bizarro ends up "hating" the holiday.
Batman Beyond in "Holidays Beyond": On Earth-12, Terry McGinnis/Batman is spending Christmas Eve searching for Bruce Wayne's old Bat-Sub, that was used once years ago before vanishing. As he's there, he ends up hallucinating a "Christmas Carol" situation, in which Bruce never became Batman. Guided by three spirits (The Gray Ghost, The Joker, and Dana Tan), Terry realizes how important Batman is, and gifts Bruce with a memento of his long gone butler, Alfred.
League of Shadows in "Night of the Magi": In Ancient Egypt, a Hebrew slave named Ya'akov Ben Shimon attempts to escape his dreadful life by disguising himself as one of his oppressors. However, he ends up deserting his own family behind, and a set of circumstances lead to his untimely demise. The gods of Egypt refuse his entry into their afterlife, but acquiesce his pleas for a chance at redemption by turning him into Ragman, and sending him to cleanse his sins as a protector of the innocent and downtrodden. Many years pass, and in the present day on Earth-13, Ragman and the League of Shadows stop Mother Destruction from destroying another Saturnalia, and another bandage unfurls from Ragman's punishment.
The Unjustice League of Unamerica in "Have Yourself a Bizarro Little Christmas": On Earth-29, Bizarro attempts to teach his Unjustlice League friends the spirit of giving. This misguided Christmas ends up inviting the ire of Zanta of the Intergalactic Santa Corps, and in the end, Bizarro learns that perhaps the spirit of giving is not lost after all.
Booster Gold in "Twas The Night": On Earth-22, Booster Gold's superhero themed restaurant is under attack by Maxwell Lord, who claims superheroes bring more harm than good to the world. Booster, who had been spending the entire night trying to make Christmas memorable (while bragging about his exaggerated feats) nearly loses, but with help from his costumed, powerless staff, manages to drive off the villain and ensure a merry Christmas for all. In the end, though, it turns out it was all a plan to make his staff (and his pocket) feel good.
Prez in "Prez Rickard's Magical Sci-Fi Desolate Souls Club Holiday Special": Prez Rickard hosts a variety hour Christmas special, featuring Sunshine Superman, Shooting Star, Speed Freak, some commercials, Magic Lantern, and Pandar the Fallen himself.
Lobo in "A Very Lobo Hanukkah": Lobo kills the entire 432nd High Council army in order to observe his holiday tradition of spending time with the dolphins.
Hey…I Already Have This….Ooooh…I like that….I Always Wanted One of Those
As you can see, each story synopsis above provides you with the cast of characters and the writers' observations, homages, and celebrations of the holiday spirit.  Whether you observe Christmas, Kwanzaa, Hanukkah, there is something for you in this holiday issue.  The fact that it has interesting moments…I don't remember Ragman's origin being associated with The League of Shadows, but it is an exploration of 52 multiverses.  That being said, 52 Multiverses gives each artist and writer the freedom to do what they do best without the constraints of normal canon.
I Wish I Had Gotten…
It's the magic of Christmas, so where're Zatanna, Wonder Woman, Jessica Cruz, Detective Chimp, Plastic Man? Oh, well… I guess you can't have it all.
Conclusion
If you know the background from some of these worlds as well as the characters, it is a chance to celebrate the holiday season.  Some stories are poignant, we get many "awww…" moments, and others that may have you scratching your head.  Overall though, this was a needed break from the heaviness that has been 2020.  The artists and writers "get it", and they have given us a gift in which we should be really thankful for! DC's Very Merry Multiverse #1 was really good fun.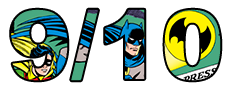 Images Courtesy of DC Entertainment