"Knocking On Heaven's Door"
Writers: Adam Glass and Robbie Thompson
Artists: Eduardo Pansica and Julio Ferreira
Color Artist: Marcelo Maiolo
Letterer: Rob Leigh
Review by Sam McTernan
Teen Titans #41 is finally here, and I'm sure you'll all agree it's good to have some new comics hitting the shelves again. Like all industries out there, comics are no exception and have been hit with some unexpected challenges during the coronavirus lockdown. It's one thing to write, draw and plot out these insane situations but entirely different to be stuck in one.
Just like me you probably had to look back at issue #40 to get your head around what's going on. The beauty of Glass and Thompson's writing is that it's so complex and intertwined through multiple issues, that it's not as simple as picking it up weeks and weeks later. Not that looking back at previous issues was much of a task when they've been so consistently good.
Issue #41 is a masterpiece of writing, as it features classic plot lines of redemption, love and the old classic interpretation of David vs Goliath. We're thrown right back into the Elias and D'Jinn arc with such force that it's a non stop, fast paced read from page one. That's no bad thing though, the intensity flows perfectly as we see how the Teen Titans adapt to take on Elias, in Heaven of all places. My only criticism of the Heaven use, along with the fighting angels and missing God, was that it made me think of the Preacher comics, although vastly, vastly different comics, missing God didn't seem remotely unique, to me at least.
The art was top class, every motion and movement was portrayed wonderfully. Crush's chains were a particular highlight to me, very dynamic and at no point did they feel clunky or out of place. Pansica is clearly a master of his craft, although I was a big fan of Chang (still good to see his work on the covers) it feels right to mix things up a bit creatively. Inks and colors also complimented the pencils brilliantly, vivid use of the pinks with D'Jinn were extremely impressive, as they gave her a magical, translucent effect.
Conclusion
I can't fault Teen Titans #41 at all really. My one criticism was maybe only a personal one, due to the slight similarities to another title, but then again, no plot is entirely unique these days anyway. I'd recommend brushing up on back issues as after such a gap, it's a heavy plot to get lost in, if you don't remember much from #40. As usual though it's this series consistency that's the real winner. Great writing and art, as always.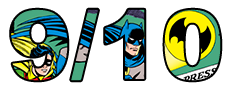 Images Courtesy of DC Entertainment