Writer:
Brian Michael Bendis


Artist:

Ryan Sook


Color Artist: Jordie Bellaire
Letterer: Dave Sharpe
Review by Carl Bryan
Warning – Small spoilers follow
Eisner Award-winning writer Brian Michael Bendis re-teams with master artist Ryan Sook (Action Comics) for one of the most ambitious mainstream comic books ever created!
Bendis juggles an incredible cast of characters with ease, and I cannot get over the floating name tags… but what a great way it is for Superboy to remember everyone. Even with limited parental exposure to his dad, Superman, Jonathan gets it; it's important to know someone by name.
Let's hope this subliminal message on getting to know a teammate or co-worker resonates with everyone, as this has to be a great Bendis commentary on cell phones and social media. We might be "friends" with someone, but do we truly "know" them. Well done sir….well done!
Flashbacks… I love a historical film orientation
Lightning Lad slows things down a bit (tongue in cheek there) in that he drops off Superboy for his orientation. This immersion into how the Legion was initially formed is almost Dickensian in depth. Talk about Ghosts of Christmas Past! What better way to immerse one into the history of the Legion than a full blown dunking into their memory banks?
Unfortunately, getting ripped out of this without the full classroom lecture may have some implications. Shades of foreshadowing…if Superboy makes uninformed decisions without the full story, there could be serious ramifications.
Core members and their motivations
Bendis has settled down to give the reader the true origin story, so it's perfect in that he picks three core members to bring us to speed. I can only hope that every Legionnaire gets given their own "highlight" reel in issues to come, as Jonathan is oriented into the team.
I love that we are literally in Imra/Saturn Girl's head… perfect story for a telepath.
Things couldn't be more different for Garth's origin story, which finds him and his sister battling against Science Police agents persecuting refugees on their planet. While Ayla is a radical with no tolerance for the United Planets, Garth is more moderate and is intrigued by their offer to join a secret mission for the UP. Sibling differences… so score another one for Bendis understanding teen issues.
Cosmic Boy's story isn't political, but one of a star athlete with magnetic superpowers who makes his name by throwing down in the ring against robots. It's like a DC Comics version of a superhero wrestling ring. When he gets the chance to join the UP, his manager/father thinks it's a great opportunity for the family. Cue the Big Baller Brand music as here we have another daddy living vicariously through their child.
Take this as my formal request for a complete revamped set of Legion trade paperbacks, so we can get ALL the back stories and the story line can remain intact.
Here Comes the Prez!
This leads to the three heroes meeting the United Planets President, a very different version of R. J. Brande – just in time for a crisis. The emergency that rips Jonathan out of his seat may not give readers the explanations we want, but Jon doesn't get to answer all his questions, as yet another crisis emerges in the present that pulls him into action.
Conclusion
We needed to slow down a bit as preceding issues went along at a break-neck pace. If we're going to be with these characters for quite some time, a back story was essential. Well done Mr. Bendis and the gang!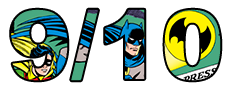 Images Courtesy of DC Entertainment