Writer:
Steve Orlando


Artist:

Amancay Nahuelpan


Color Artist: Trish Mulvihill
Letterer: Tom Napolitano
Review by Carl Bryan

Gotham City Monsters #3 sees our heroes unite in the aftermath of Melmoth's attack, but one of their own has gone missing! Andrew Bennett, a.k.a. I, Vampire, has gone straight to the source of the evil, but the fanged one finds attacking Melmoth's acolytes is biting off a little more than he can chew. Frankenstein leads Croc, Lady Clayface, Orca, and the mysterious Red Phantom through the Gotham underground to rescue Bennett and shut down Melmoth's schemes, but will their showdown at the Gotham City Zoo attract the attention of any of Gotham's other protectors? Batwoman, perhaps?
Steve Orlando  delves further into a combination of JL Dark and a Suicide Squad worthy of Forrest J. Ackerman's Famous Monsters series.  The only thing we're missing are a werewolf and a mummy. Perhaps Man-Bat could join in… it is Gotham City, after all.
I love the fact that this is a side of Gotham that no one would want to venture into, as it contains elements of the Occult as well as all these monsters. Orlando paints a wonderful mixture in this team up providing Frankenstein, Andrew Bennett and Red Phantom from the monster side of things. Strangely enough, one wouldn't usually consider Killer Croc or Orca to fit in with this group, but here they are.
I'm not that familiar with Lady Clayface, but  Amancay Nahuelpan draws her wonderfully and her "bladed wings" offer a great homage to any Vulture, Falcon, or Hawk-woman rendering. She and Red Phantom share a poignant moment that I did not expect, as the Phantom's chained to the theatre but can travel as wherever a piece of it exists, thus, Frankenstein has a brick from the theatre, and Red Phantom is allowed to exit to be near the brick. Clever job on this one Steve Orlando! With the Undying Crime Bible exposed and utilized to perform Melmoth's bidding, Batwoman needs to become involved.
Orlando has a new sandbox to play in!
I repeat my sentiments that this is a job for JL Dark. However, Orlando is building this squad piece by piece and I'm really awaiting a Wolf-Man or Wolf-Woman to enter the fray! Perhaps King Tut, as an homage to the Mummy monster movies?
Lady Clayface is a keeper, and if we can have Nora aka Mrs. Freeze in the Batman universe, then why can't Lady Clayface be a mainstay? DC is doing a great job of introducing new characters and making some great pairs.
Speaking of combinations… the cover promised Bat Woman, but we don't get her until the conclusion of the book. What gives?
Conclusion
Gotham City Monsters #3 doesn't disappoint and the pace gets a bit quicker as Melmoth pulls a disappearing act, forcing the GC Monsters to become a more formidable team together. Here's hoping this is more than a six issue run as this team deserves to be either in the pages of Batman on a regular basis, or as another Suicide Squad or yet again, part of JL Dark! Time will tell, so buy those issues!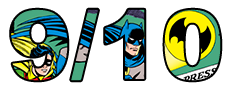 Images Courtesy Of DC Entertainment