Writer:
Steve Orlando


Artist:

Amancay Nahuelpan


Color Artist: Trish Mulvihill
Letterer: Tom Napolitano
Review by Carl Bryan

Leviathan has dismantled S.H.A.D.E. and that means Frankenstein is once again a free agent! In Gotham City Monsters #2 he sets his sights on his former mentor, Melmoth, the one evil that got away. Frankenstein and Andrew Bennett, at odds but on the same team, find their way to the theatre. Of course there's a Phantom of the Opera, bound to the bricks of the theatre itself. Missing monsters abound in this side of Gotham City, and all of them are after Melmoth!
Steve Orlando  is on fire with this series as he takes the "monster" side of Batman's Rogues' Gallery and pairs it with none other than Frankenstein, Andrew Bennett (vampire), Michael Drown (The Phantom of the Opera) and more. It looks like Frankenstein is pulling an Amanda Waller and forming his own group of misfits to deal with Melmoth! Why didn't I think of this?
This book is the ultimate crossover, as comic readers have always looked for ways to pull in the monsters from their youth!  Orlando has done it with grace and aplomb. No Dracula here (yet), but do we really need him? No Creature of the Black Lagoon, but we have Killer Croc? You get the picture! The elements are there and there is just enough homage to the old guard and the right ingredients of Gotham to plunge us into a new world of villainy. Now, where can we connect the dots and get JL Dark into the mix? Bobo is just the right ingredient to be a part of all of this!
I love this playground for Orlando!
I echo my sentiments that this is a job for JL Dark. No silver bullets needed, but the lady with the shiny bracelets with the friend with the top hat and incantations, this environment needs them, AFTER Melmoth is dealt with… and the artwork! Amancay Nahuelpan paints great characters with updated designs! No bad green look on old Frankie… he's quite stylish!
Lettering was taken for granted long before The Batman Who Laughs, but lettering is an important part of comics. Tom Napolitano's work on this project is perfect, once again.  Readers don't have to be bludgeoned over the head and his lettering is superb at letting us know when a monster is speaking!
Finally, Killer Croc's attempts to get a job… priceless! He's not necessarily the comic relief, but he's there as the "fish out of water" that wants the normal life, but the monster life keeps sucking him back in!
Conclusion
Gotham City Monsters #2 doesn't disappoint and with the appearance of The Phantom of the Opera (Theatre?), I just know that there are more homages to be paid to Forrest J. Ackerman Famous Monsters titles! Now, where is all that toilet tissue coming from?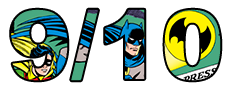 Images Courtesy Of DC Entertainment