Batman vs. Teenage Mutant Ninja Turtles
Writers: Marly Halpern-Graser
Director: Jake Castorena
Starring: Troy Baker, Eric Bauza, Darren Criss, Kyle Mooney, Baron Vaughn, Carlos Alazraqui, Cas Anvar, Rachel Bloom, John Dimaggio, Keith Ferguson, Brian George, Tom Kenny, Andrew Kishino, Jim Mesklmen, Tara Strong
Review by Kevin Gunn
EDITOR'S NOTE: Potential Spoilers Ahead!
So, I was talking with my family about the review of this film and my spouse asked me, "Why do the heroes always fight each other in these movies?" I explained that this is a common trope of the superhero genre. The two forces misunderstand one another, then realize that they are on the same side against a common enemy or enemies and, while it is not uncommon, there is nothing common about Batman vs. Teenage Mutant Ninja Turtles.
Official Description
Batman vs. Teenage Mutant Ninja Turtles finds Gotham City reaching new levels of danger when Shredder joins forces with Ra's al Ghul to enact a nefarious plan – leading to the team-up of the Dark Knight and the Turtles to combat the combined might of the Foot Clan and League of Assassins!
You Put Your Dark Knight In My Mutated Reptiles Movie! You Got Teenagers In My Dark Knight Movie!
For those of you who didn't know, this movie is based on a comic book adaptation. The written version did so well that Warner Animation and Nickelodeon decided to bring these two properties together on the small screen. I entered with some apprehension, as I remember watching the original Teenage Mutant Ninja Turtles in the late '80s. The only thing that the original series has in common with this movie is the names of several characters.
I was pleasantly surprised by Batman vs. Teenage Mutant Ninja Turtles. It has a great plot, superior animation, a stellar cast, and room for a sequel. Troy Baker is no stranger to the world of the Dark Knight. He's played both Batman and the Joker in numerous video games and animated projects. When I first heard his voice in this release, it immediately took me to his LEGO® DC projects. Baker did not disappoint. He played two roles as Batman (three if you count Bruce Wayne) and the Joker.
There wasn't a lot that I didn't like about this film, my only issue (and not a complaint, really) was the choice of blue and grey for Batman's costume. I would have gone with black and grey, but no one asked me.
I was also impressed by how well the story translated to film. Batgirl/Barbara Gordon played by Rachel Bloom (Crazy Ex-Girlfriend), has a standout performance. I love the opening scene and how it sets up the story. Marly Halpern-Graser delivered a very tight and well-organized adaptation.
Conclusion
If you're a fan of either of these franchises, in any medium, you will like this movie. If you are not a fan but want to watch something with your family (and don't mind some blood and B-grade curse words), you will also enjoy this movie.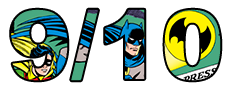 Images Courtesy of DC Entertainment