Debating which heroes or characters are better is a tale as old as time. Who would win in a fight, Batman or Superman? Who is faster, the Flash or Superman? Who is smarter, Lex Luthor or Batman? Is Batman more fun than Aquaman? We, as fans, just can't help it.
So naturally, in a recent interview with Variety, Nicole Kidman was asked who is more fun, Aquaman or Batman. Kidman is uniquely qualified to answer this question, seeing as she played Dr. Chase Meridian in 1995's Batman Forever and now plays Queen Atlanna in Aquaman. Her response shows just a bit of recency bias:
Well, you have to be with the one you're with now. So I have to say Aquaman, right? I can't be talking about an ex!
Nicole Kidman on who's more fun: Batman or #Aquaman? https://t.co/a7Og507hlT pic.twitter.com/aFsYltiqP5

— Variety (@Variety) December 13, 2018
A completely fair answer, though if my character caused the infamous Bat-smile I'd probably want to forget that too.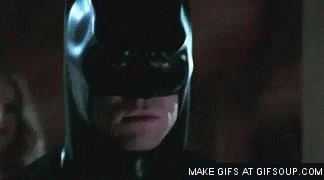 Kidman's role in the film might also play a part in her preference. In Batman Forever, she played a criminal psychologist who was just weirdly obsessed and sexually attracted to Batman, and that's about it… it seems like she will have more to do in Aquaman than to just swoon over the hero. Which is good since, well, she's playing the hero's mom this time. This isn't Game of Thrones.
From director James Wan:
Nicole and I have been wanting to work together for a while now and so when this project came along it just felt like, "Oh I've gotta give Nicole a shot." There's no one more perfect to play the queen of Atlantis but Nicole Kidman, she literally was at the top of my list and luckily we were able to get her to come play with us and I think she's fantastic. She's such a great actress and the gravitas and the emotion she brings to the film is just so valuable. And, yes, I've always wanted to see Nicole in a kick ass role as well just like has been brought up.
Aquaman is in theaters right now..