Archie Meets Batman '66 Issue #2
Writers: Jeff Parker and Michael Moreci
Artist: Dan Parent
Holy Parental Panic!
Here we are back in Riverdale for Issue 2 of the series where our Caped Crusader and his compatriots are back in round two of something fishy in our dear Riverdale. We join Batman, Robin and Batgirl in the Batcave as they discuss the strange goings on in Riverdale. The adults are acting a bit too shady and while our team has a list of potential culprits, they need more information to figure this mystery out. What is the perfect solution? Barbara and Dick will be going undercover as Riverdale High's newest students!
Welcome To Riverdale Gang!
This issue was exciting for a lot of different reasons but one of the main ones for me was the new arrivals in town. An almost astonishing array of Gotham's finest villains has come to Riverdale, and their plan? To make it more like Gotham of course! Who wouldn't want to feel more at home in a new and intriguing place?
I won't spoil too much but there are some major players and I am super excited to see what their roles will be in the coming issues. The good thing is that while Batman and his gang are trying out new tactics, but so are the rogues and that could include finding some fresh blood.
Dream Team's Back… Back Again!
Writing team Jeff Parker and Michael Moreci are back in full force for this issue and artist Dan Parent brings such joy to the pages with his style. When simply looking at the art and the colors brings you a sense of nostalgia and joy as these do, the mood is set for pure fun!
Conclusion
This issue ranks at the same level as the last, the story and the art combine beautifully to give this wonderful sense of what some called a simpler time. This series has been a joy to read and I cannot wait to watch as this story unfolds!
How are you finding the series readers? Are you enjoying your jaunt to Riverdale as much as us? Let us know in the comments below.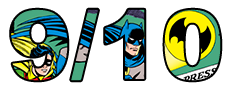 Images courtesy of DC Entertainment and Archie Comics.