Writer: Tom King
Artist: Lee Weeks
Mr. Freeze is on trial and the only person who is standing in the way of his conviction is… Bruce Wayne?
Writer Tom King does a wonderful job of slowly peeling back the layers of Bruce Wayne dealing with the fallout of the Bat-Wedding. He is in a precarious place now. It was not obvious in the first chapter of the storyline, nor is it noticeable at the beginning of this issue. However, as we see Bruce devoting more time to defending Mr. Freeze's case, it is becomes more evident that there is more going on than at first meets the eye.
In fact, King works the motif of 'more than meets the eye' on multiple levels. Readers know where Bruce is emotionally, but his fellow jurors do not. This makes it interesting to see how much Bruce will break from his foppish playboy persona and divulge his real feelings. King turns this storyline into a 'Will he, won't he?' trope. It is gripping to see it play out.
Another example that there is something else amiss is Mr. Freeze's case. Initially, it seemed like a standard supervillain conflict, however, King's use of intertwining flashbacks reveal there are other forces at play. What makes Mr. Freeze's plot more compelling is King's non-linear narrative style. Readers get bits and pieces of how the fight with Mr. Freeze went down, but more information unfolds at a gradual pace to draw readers into the story more.
Mr. Freeze Is A Cold Customer
Mr. Freeze's case also raises red flags for Batman. There is a conspiracy against Batman and Mr. Freeze may be a part of it. King makes layers this story arc with intrigue. Despite a fairly intimate story, King takes time to weave plot threads into the overall narrative.
It would be remiss to not mention Lee Weeks' amazing art. Weeks' use of shadow and light creates an immersive mood and atmosphere. Look at the lighting from Mr. Freeze's armor and freeze gun. A lesser artist would draw a more traditional non-dynamic piece, but Weeks treats Freeze's tech as an energy and light source in a darkened environment. When Mr. Freeze shoots an ice beam, it literally illuminates the fight scene.
There are some negatives in the story, but they are rather nitpicky. For a story arc based on Mr. Freeze, he does not even say one word of dialogue. There is also this implication that Freeze fears Batman. It works in the context of the storyline, but it further defangs Mr. Freeze. This paints him almost as a pathetic villain and not at all a credible threat for future stories.
Conclusion
After some missteps with storylines like "The Best Man", King appears to be firing on all cylinders. His writing style seems to be better suited for these non-traditional, personal stories more. Here, King wields all of his storytelling tricks to maximum effect to create a dense, satisfying narrative.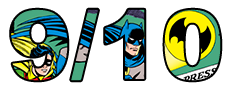 Images courtesy of DC Entertainment