Sometimes, we receive news that's so exciting that it blows our minds. DC Comics have always innovated: Prestige format books, Vertigo, Elseworlds… now the comics giant has unveiled their "Black Label" line; high quality, mature themed standalone books, featuring DC Comics' greatest characters.
Now, if that's not exciting news, then I don't know what is!
DC LAUNCHES NEW PUBLISHING IMPRINT DC BLACK LABEL

BRINGING EDGY AND PROVOCATIVE STANDALONE STORIES TO THE LEGENDS OF BATMAN, SUPERMAN AND WONDER WOMAN

ALL-STAR WRITERS FRANK MILLER, SCOTT SNYDER, BRIAN AZZARELLO, KELLY SUE DeCONNICK, GREG RUCKA AND JOHN RIDLEY BRING THEIR ULTIMATE TAKES ON MODERN SUPERHERO STORYTELLING

COLLABORATING WITH SUPER-STAR ARTISTS JOHN ROMITA JR., GREG CAPULLO, LEE BERMEJO AND PHIL JIMENEZ
The list of talents creating these comics is outstanding. When we find out what the initial releases actually are, things heat up even further!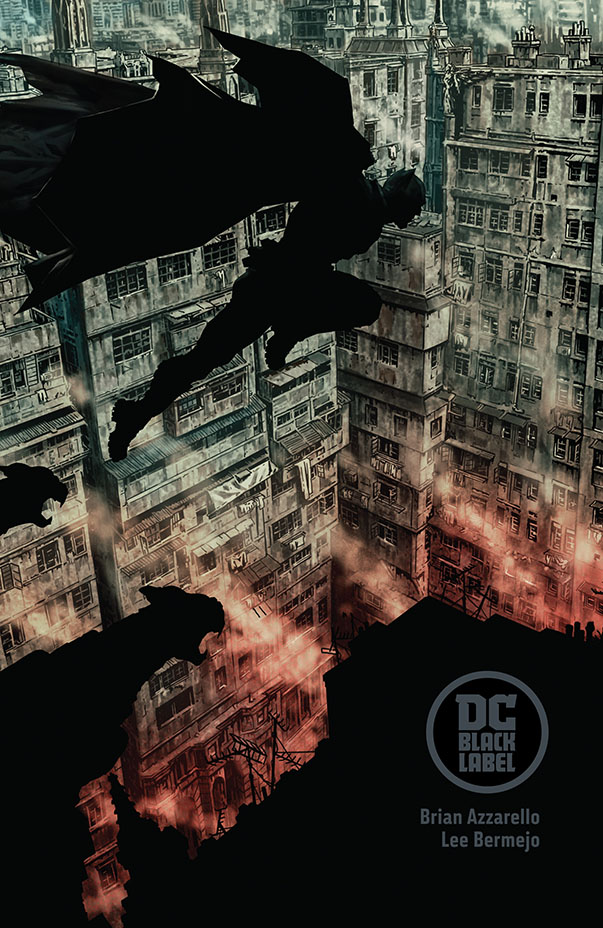 Black Label / Dark Knight
BATMAN: LAST KNIGHT ON EARTH from Scott Snyder and Greg Capullo, the creative team behind DARK KNIGHTS: METAL

Batman wakes up in a desert. He doesn't know what year it is or how The Joker's head is alive in a jar beside him, but it's the beginning of a quest unlike anything the Dark Knight has undertaken before. In this strange future, villains are triumphant and society has liberated itself from the burden of ethical codes. Fighting to survive while in search of answers, Bruce Wayne uncovers the truth about his role in this new world—and begins the last Batman story ever told.

BATMAN: DAMNED from Brian Azzarello and Lee Bermejo, the creative team behind JOKER

On a deserted Gotham City bridge, a body is found. Whispers spread the news: Joker is dead. But is this a dream come true or a nightmare being born? Now Batman and DC's outlaw magician John Constantine must hunt the truth through a Gotham City hellscape. The city's supernatural recesses are laced with hints about a killer's identity, but the Dark Knight's descent into horror will test his sanity and the limits of rationality, as he must face a horror that doesn't wear a mask.
About Last Knight
"Last Knight On Earth" was due to be a collaboration between Bat Maestro Scott Snyder, and White Knight creator Sean G. Murphy. Whilst I must admit feeling some disappointment that this team won't be making the new story, Scott Snyder finishing his Batman run with the artist he started with is fitting indeed.
Mr. Snyder had this to say on social media:
The amazing world Sean (Murphy) has created with White Knight is so HIS, it felt right to keep his Batman singular.

Sean is family to me, and I'm thrilled for him over the tremendous success of BWK. Wait 'til you see what he has coming… it's amazing!

As for me and Greg, we've never had the chance to work outside the monthly grind, not in 7+ years together. The Black Label format finally gives us the room to experiment creatively, both with story and art, to make something very different to anything we've done before.

Something that encompasses Batman, from early days to his end, and brings in the DCU as it goes. Very excited, and thanks, as always.
The Super, The Bat, And The Wonder Woman
Fans of Superman and Wonder Woman won't be left out, as there are some great stories coming for the other members of DC's Trinity, as well as a brand new DC Social History volume.
SUPERMAN: YEAR ONE from Frank Miller (THE DARK KNIGHT RETURNS, BATMAN: THE DARK KNIGHT: MASTER RACE) and John Romita Jr. (ALL-STAR BATMAN, SUPERMAN)

A groundbreaking, definitive treatment of Superman's classic origin story in honor of his 80th anniversary. This story details new revelations that reframe the Man of Steel's most famous milestones. From Kal-El's frantic exile from Krypton, to Clark Kent's childhood in Kansas, to his inevitable rise to become the most powerful and inspiring superhero of all time.

WONDER WOMAN HISTORIA: THE AMAZONS from Kelly Sue DeConnick (Bitch Planet) and Phil Jimenez (INFINITE CRISIS)

A Homeric epic of the lost history of the Amazons and Queen Hippolyta's rise to power. Featuring monsters and myths, this three-book saga spans history from the creation of the Amazons to the moment Steve Trevor washes up on the shores of Paradise Island, changing our world forever.

WONDER WOMAN: DIANA'S DAUGHTER (working title) from Greg Rucka (WONDER WOMAN, BATWOMAN)

It's been 20 years since the world stopped looking to the skies for hope, help, and inspiration. Now the world keeps its eyes down, and the powers that have risen have every intention of keeping things that way.

Amongst a scattered, broken resistance, a young woman seeks to reclaim what has been forgotten. On the way will learn the truth about herself, her heritage, and her destiny.

THE OTHER HISTORY OF THE DC UNIVERSE from John Ridley (12 Years a Slave, THE AMERICAN WAY)

A compelling literary series analyzing iconic DC moments and charting sociopolitical gains through the perspectives of DC Super Heroes who come from traditionally disenfranchised groups; John Stewart, Extraño, Vixen, Supergirl, Katana and Rene Montoya, among others.

At its core, the story focuses on the lives of those behind the costumes, and their endeavors to overcome real-world issues. It isn't about saving the world, it's about having the strength to simply be who you are.
For continued updates on DC Black Label and these series, check DCComics.com