"Some of These Days"
Writer: Tom King
Artists: Lee Weeks, Michael Lark
Tom King writes a surprisingly poignant tale of Batman and Catwoman's romance that spans a lifetime.
King crafts a story that starts out simple and then leads readers to a totally unexpected emotional place. Initially, Catwoman is introduced by stealing the Batmobile. This quickly escalates into a- do I dare say- cat and mouse game between her and Batman. It seems that Catwoman perpetually gains the upper hand over Batman. But the brilliance of King's script is that things do not always appear as they seem. There are twists and turns as Batman and Catwoman continually court each other. Both characters are presented as crafty, resourceful, and most importantly, a little emotionally messed-up.
The flashback to Catwoman and Batman's first "date" is a lot of fun. Flashing back shows more of the post-Rebirth continuity, while demonstrating why Batman and Catwoman belong together. It also serves as a set-up for the emotionally-charged flash-forward scene that is both unexpected and bittersweet.
Not to say the script is perfect. King's writing tics are apparent here in the form of truncated, cryptic dialogue. It can be annoying to read, because it forces the reader to read heavily between the lines. Additionally, it teeters on being overly pretentious when the characters constantly repeat the same phrase or word back and forth. Honestly, it reads like a Brian Michael Bendis script at times.
It would behoove me to discuss Lee Weeks and Michael Lark's inky art styles. Weeks-who provided the majority of the annual's art-utilizes a lot of black to create a moody look. Weeks is a traditional pen and ink artist and the comic is visually richer for it. The way his backgrounds give us just enough details shows an impressionistic-like quality. Lark also offers a fantastic effort for his art in the flash-forward scenes. The lines are thinner than Weeks' and he uses more computer effects in his work. This gives a cleaner, more modern feel, which is appropriate for scenes set in the future. Fortunately, both artists' styles mesh very well, so the transition from one artist to another is subtle.
Conclusion
King is in top form with his writing. It is apparent that he is taking a lot of his personal experiences from his life and putting into these characters. It makes for such a heartfelt and emotional reading experience, that not even his occasionally odd dialogue tics can derail it.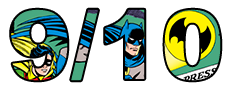 Images courtesy of DC Entertainment