"As we anxiously await the debut of Justice League, DKN celebrates the release of the live-action film with reviews of the DC Universe Animated Movies starring 'The World's Greatest Super-Heroes.' Our sixth review is Justice League: Throne of Atlantis."
Director: Ethan Spaulding
Writer: Heath Corson
Starring: Matt Lanter, Sumalee Montano, Jason O'Mara, Jerry O'Connell, Rosario Dawson, Nathan Fillion, Christopher Gorham, Sam Witwer
Justice League: Throne of Atlantis could have been called "Identity Crisis". Aquaman, alone and in a dead zone of some kind, is reflecting on his past without hopes of a future. However, he soon finds himself in a whole new world, meeting his family, his future bride and a new gang of superheroes. While he's always been one down for a fight, a betrayal puts him on the front lines of an invasion, pitting land dwellers against sea dwellers.
Continuing this look back at animated Justice League films, I can wholeheartedly say Throne of Atlantis is leaps and bounds better than its predecessor, War. While that movie mainly focused on action, and a reason for the band of superheroes to come together, this movie too unites the League but tells an emotional story as well. Think about it: we get a man's struggle within himself, childhood trauma, a new love interest, discovery of new powers, family reunion, family betrayal, ultimate war and new friends…who have superpowers. All of this is in 72 minutes, and at no point does it feel too crowded. Loosely inspired by Geoff Johns and Jim Lee's "New 52" story of the same name, writer Heath Carson hits every note in action, emotion and comic book moments that these animated movies need.
The hero of the story is (obviously) Arthur Curry. He's at the lowest of the low, and needs help finding meaning to his life. In steps Mera, a redheaded badass who provides Arthur the backstory he's been looking for. But it's a little weird: he's from Atlantis. This leads him to a reunion with his brother, and ultimately a betrayal. Although he's new to this world, it doesn't take much for him to realize which side he needs to choose, taking him back to shore to help stop an invasion from his brother's (now Ocean Master) army.
Where does the Justice League fit into all of this? The movie kicks off with an attack on a submarine. Being the clever detectives they all are, Cyborg discovers handprints at the scene. It doesn't take a scientist to understand though that there shouldn't be handprints on the outside of a submarine at the bottom of the ocean. The League unites and joins Arthur on his journey under da sea.
Again, this seems like a lot for a short movie, but it isn't. We get the right amount of information to push the narrative, just as much action and a lot of character analysis in between. Fans can scream for joy to see the instant chemistry Arthur has with Mera, and it's a relationship (which we all know where it leads) you cheer for. As for his newly-formed alliances with each member of the League, it's all easygoing and not forced. Less is more, and it doesn't take much to get everyone on the same page. There's an instant trust on display, and we feel it as an audience too.
The animation is top notch as well, going right along with all of these DC Animated Movies. Director Ethan Spaulding (Son of Batman, Assault on Arkham) does a fine job overseeing the project. He takes his time building the story and characters, which despite everything is the most important. If you don't care about anybody, then who cares what it looks like. Fortunately, we do care about everybody and therefore are blessed with the look of everything. The character designs are just a little different (looking at you, Batman), but it's a positive. As for the settings, Atlantis looks gorgeous and reflects the jaw-dropping art we can come to see in the Aquaman titles. The action moves with ease and never looks jarring or jagged. Throne of Atlantis looks AND sounds great.
Conclusion
This movie is awesome. I love the origin story of Aquaman and how he seamlessly becomes part of the Justice League. While some may find his inclusion OUTRAGEOUS, he's just a lost soul who quickly finds a purpose, friends and loved ones that take his life in the direction he needs. If you haven't seen it yet, hold your breathe and dive in.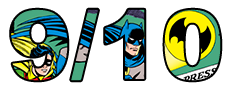 Don't miss our review on the next DC Animated film: Justice League: Gods and Monsters. Also, if you did not catch our past reviews, you can click here.