New York Comic Con! Known to host over 180,000 fans presented Dark Knight News with the opportunity to interview the legendary Bruce Timm, creator of Batman: The Animated Series, and a major contributor of the DC Animated Universe, including the recent films Gods and Monster, Batman and Harley Quinn, and the upcoming Gotham by Gaslight! The interview includes Tara Strong, the famous voice of Batgirl, and Kevin Conroy, the most iconic Batman voice actor.
Let's begin!
TARA STRONG
So do you have any favorite Batgirl moments?
Tara Strong: Yes, I loved "Girl's Night Out" that was really fun. At that time, there weren't that many kick-ass chick superhero roles, so "save the day with Supergirl" was pretty cool.
What was it like to remember the audition?
TS: I had just moved from Toronto to Los Angeles. I had that [Batgirl] audition, which was really scary. They were casting and there were a lot of well-known celebrities in that room, as well as voice-over legends. I collected Batgirl [things] since I was a little kid so I really wanted it and then I [went] into the room with Andrea Romano and Bruce Timm, [and you feel] just so intimidated because they're just so damn smart! I just remember feeling like being in that moment, and portraying [Batgirl] as real as I could. And when I got the phone call, [from my agent, she said] "Oh my God! You're the girl who's the bat! You're Batgirl!"

I was like, "Oh my God!" I pinched myself then and I still do everytime I get to play her.
What's one story that you've always wanted to play through?
TS: I think it would be really fun to explore Oracle. Just take her into all different kinds of levels. I think that be cool.
Birds of Prey? 
TS: I mean, did you guys see that Huntress episode, in the musical one?
You mean from Batman: The Brave and the Bold? 
TS: Yeah, I loved that one! [She starts singing]
How did you like playing on The Brave and the Bold? What was your favorite aspect on there [BTAS/BTBATB]?
TS: It was so much fun! I can't even say it was like every single day, I would pinch myself. I was beside Mark Hamill and Kevin Conroy and you're like "what's happening?" It was a magical experience, really.
Working with both dark and comedy, what is your favorite between the two?
TS: When it comes to the superhero world, I really prefer the dark. I don't like it too silly or cartoony. Which is another reason why I I really loved working with the series, which was really dark. Then, the comedy came out of sort of unexpected moments. Just like real life experiences, so it wasn't a forced comedy. It was tongue in cheek and I loved that.
Who makes a good fighting partner next to Batgirl, other than Batman and Robin?
TS: Supergirl! That was fun.
When you did The Killing Joke there was that little thing where you and Batman get together. That's alluded to in Batman Beyond, although you weren't Barbara by then. But, in the Mystery of Batwoman, you do have that flirty phone call, what do you think about pairing Barbara and Bruce?
TS: I really loved The Killing Joke, and I loved that pairing. I thought it was really strong and a bold choice. She's an adult now and they're not related, you know? People get mad because they say that "it's like your dad!" But it's like, "no, it's not." And I thought it was well shot. It wasn't gratuitous. A lot of people wanted it even if they pretend they were disgusted by it.
I know you may get this question quite often, but what was one of the favorite episodes from the series? 
TS: What was the one where she dies? What was it called? I loved that one! That was really cool! I love dying. That was trippy.
All these characters [you play], they're so deep, strong, and meaningful, how did it help you to develop and grow into the wonderful, beautiful woman you are? 
TS: I think it's the same as doing an on-camera show or theater like you really become these characters. I've really grown up with Batgirl and when I started, when I just moved to LA, obviously from now to The Killing Joke, there has been a tremendous amount of growth, and I've just kind of grown up with her.
In the BTAS, you came on as Batgirl, did you have a lot of say on how she became her character or did you just come into the part?
TS: I think I came into becoming Batgirl. I gave as much as myself in essence to her, but I have to give kudos to the storytellers. The writing on that show was so brilliant. We didn't really improvise a lot or give our ideas in terms of where the characters should go but Andrea Romano, such an excellent director, that she really trusted our integrity and allowed us to be organic with our choices, so it was probably a collaborative effort.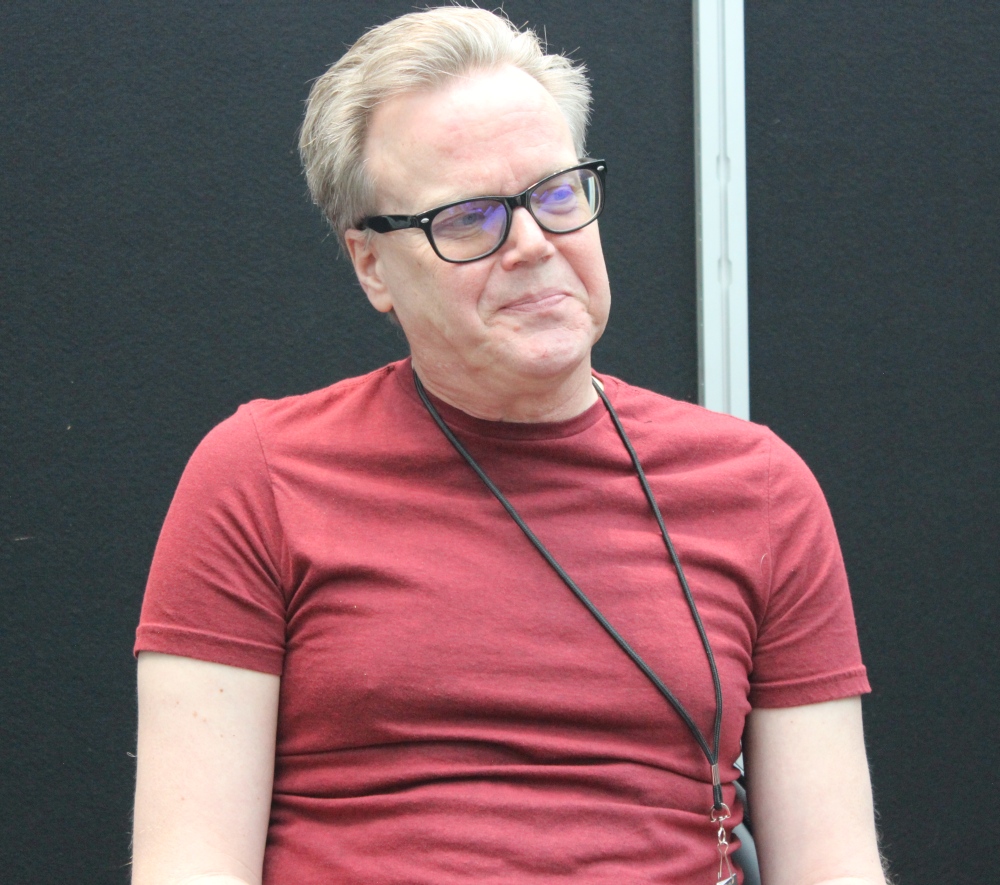 BRUCE TIMM
I've heard there are some censorships with Batman creativity, was there anything that you've wanted to do with Batman, a story with him that you wanted to follow through but you couldn't? 
Bruce Timm: Well, the only thing really that I could think of, and it's not a big thing, it's nothing I lose sleep over, but I have an idea to do an episode where Batman got turned into a vampire temporarily. Like the comic-book character, Norturna, the character Doug Moench created. It didn't get much passed just the idea, we floated it past FOX Kids, and they said "NOPE."

No vampires.

I said, "Well, what if he wasn't really a vampire–"

"No vampires."

Everything else we got to do though!
KEVIN CONROY
If the Joker was Batman's best friend, what do you think his best aspect would be for the friendship between them? 
Kevin Conroy: I think that… I think the Batman and Joker are Yin and Yang to each other. I don't think one would exist without the other. Joker would not be the Joker we know if it wasn't for the Batman for him to play off of, and Batman wouldn't be the Batman we know if he didn't have the Joker to play off. You know, they just define each other in so many ways. So I can't imagine one without the other. They wouldn't be the same people.
Do you remember the first recording session altogether, in terms of doing the first Joker episode?
KC: I do. Because I know Mark Hamill as Luke Skywalker, which most people knew him from there, and I thought…"that's Joker? That's kinda odd. Mark Hamill?"

And then he came in and JUST physically became this madman! I mean, I wish you could see him the way I see him in the recording studio because his face transforms! Very rubbery and he devours the microphone. It's an intimidating presence to be in. A lot of fun. And he's a theater actor, and I'm a theater actor, and we like to play off of each other. He's very generous. He genuinely wants me to be good because he knows the better I am, the more I'll have to give him, the better he'll be. And I genuinely like when he's good, I want him to be good because I know he gives me more. So there's a real generosity with him that I just love.
Any Star Wars spoilers? 
KC: No! no, he's good at that. he never tells us anything.