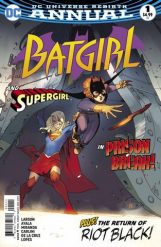 Writers: Vita Alaya, Hope Larson
Artists: Eleonora Carlini, Inaki Miranda
Batgirl Annual #1 gives us the amazing Batgirl/Supergirl team-up that we're never going to get to see on the small screen. It honestly feels like an episode of Supergirl, and a good one at that.  It's titled "World's Finest," too, and that's honestly heartwarming. I loved that touch.
The issue description states that the team-up centers on the two heroes breaking into Arkham Asylum, but that is definitely not the case. So, if anyone has their hopes up about that, be warned. This story takes place in National City, with Supergirl and Batgirl breaking into a Cadmus facility.
It's interesting that this, being a Batgirl story, would see her traveling to the other hero's city instead of the other way around. It works, though. Batgirl is a fish out of whatever, definitely walking in Supergirl's world. This is a great little crossover that explores the strength of both characters, which is what comics like this should do when they're at their best.
The dynamic between the two of them is really great. It's definitely the story of a budding friendship. I will admit that it's weird to read the first encounter between these two characters. The DC Rebirth titles have been a little awkward in that regard, almost as a whole. Batgirl is definitely guilty as well.
There will be times when it just feels like a standard Batgirl story that could take place at any point, and then she just meets a major DC character for the first time. I'll admit, for a moment, it takes you out of it as a reader. It's hard to completely forget that these two characters had a previous history together.
Still, watching these two interact, get to know each other, find their own dynamic in an organic and believable way—all of that is great. I had a smile on my face virtually the entire time.
The backup story is fun, but not nearly as excellent as the Supergirl team-up. This one's just Barbara and Alysia celebrating their "friend-a-versary" and Supergirl has to take her best friend along on a mission without sacrificing her secret identity. There's something very old fashioned about it.
It doesn't even feel like old-school Batgirl. If anything, it feels directly lifted from an old 1960s era issue of Amazing Spider-Man. It's such an old-school trope, which is fine, but the comic offers absolutely nothing new to say about it. That doesn't mean that it's bad, far from it, but it doesn't really stack up against the Supergirl story.
Conclusion
Overall, this is still a very strong annual that's absolutely worth checking out. While one story is better than the other, they play off each other very well, as they're essentially two completely different kinds of team-ups.

Images courtesy of DC Entertainment