"Ringing in the New Year with Deadshot"
Writer: Rob Williams 
Artist: V Ken Marion 
"Explosion, Diana."
"I see it."
Right before 2018, Trinity gives us a New Year's one-shot. New Year's Eve is a special night, where everyone can begin counting each little minute before the clock strikes twelve. You don't need to be Pagan, Christian, Jewish, or Muslim to celebrate New Year's, that night welcomes everyone to renew their world together.  And so for a warrior, a farmer, and a billionaire, New Year's eve is a fitting holiday.
In this beautiful rendition of the eve with Trinity, Bruce Wayne invites those he loves to spend the countdown to a party. Diana and Clark are guests, along with their loved ones Steve Trevor, Lois Lane and Jon. To Clark's surprise and disappointment…Bruce is not at his own party.
Diana wonders why he's still surprised, and he answers "someone always needs saving."
A little cold Superman.
But we get this beauty as Wonder Woman and Superman notice destruction and run to help Batman.
It's sweet to have clips between the partners of the Trinity. DC is not without having their badass characters interact; this moment was particularly rare. Catwoman, Lois Lane, and Steve Trevor need their own series.
The art is dynamic!
I love the action being juxtaposed with Wayne's holiday party. It's as if you can hear the peaceful silence at the Manor as the Trinity battles. Marion is skilled in action shots.
Conclusion
It's not a jolly issue, but the team-building is gorgeous. Diana, Bruce, and Clark reminisce about the concept of time. To each of them, time is so different; however, to the mortal, the goddess, and the alien time is their most common factor. For all of them, for all their power, their might and love, time still takes everything away. Being the most mortal, Bruce at age 10 understood what time meant earlier than anyone. And so he wants to help Deadshot. He will, we trust him. And his team trusts him.
Happy New Year's, everyone! Spend time with your loved ones.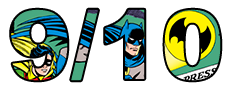 Images Courtesy of DC Entertainment