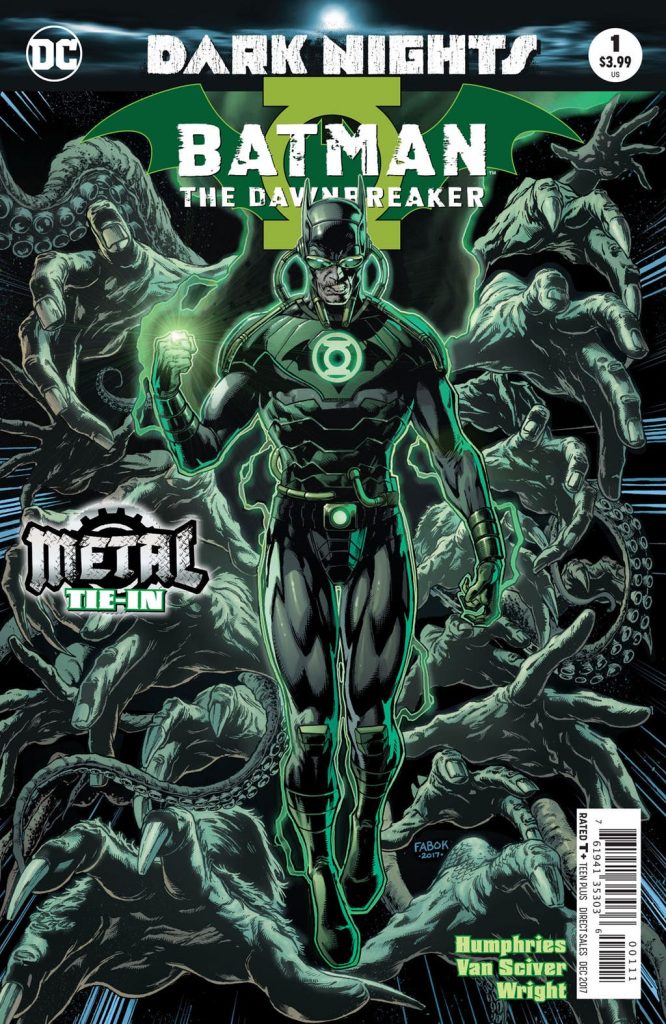 Writer: Sam Humphries
Artist: Ethan Van Sciver
In Scott Snyder and Greg Capullo's massive Metal event taking place in the DC Universe, we are slowly being introduced to evil versions of Batman that have been created in the Dark Multiverse and are ready to invade our world.
We've already received glimpses of a Joker version of Bruce Wayne (with evil Joker Robins included!), as well as a version of Batman that stole the Flash's speed to become the Red Death. There are evil Batman doppelgängers for each member of the Justice League, and Green Lantern is the next up for fans to get a preview of.
In Sam Humphries and Ethan Van Sciver's Batman: The Dawnbreaker one-shot, we will be getting a look at the origin of the evil Green Lantern Batman.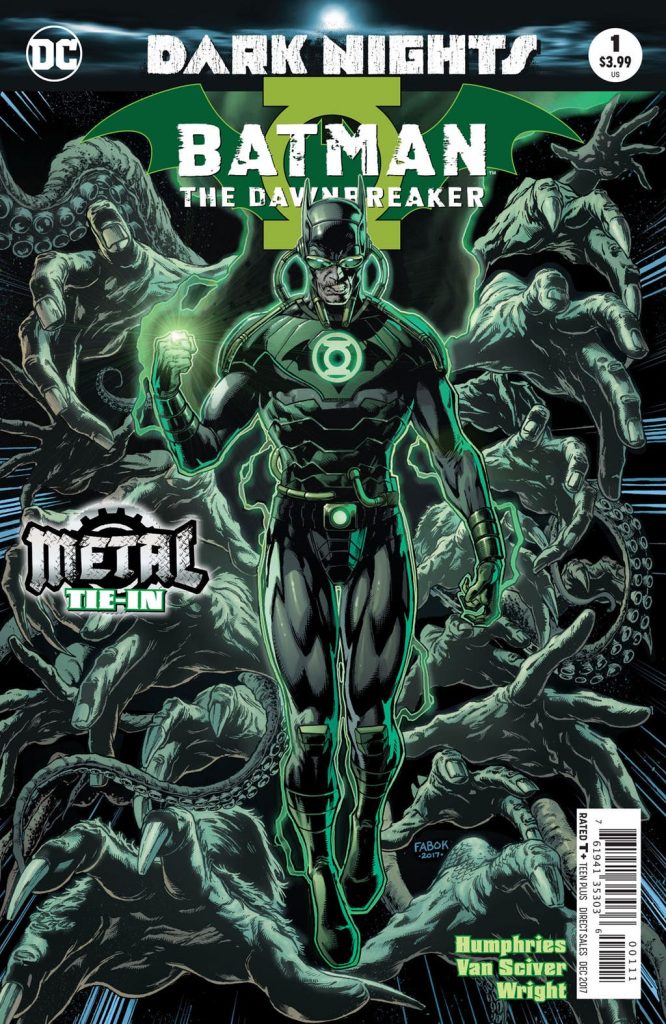 Here's the solicitation information:
BATMAN: THE DAWNBREAKER #1

Written by SAM HUMPHRIES

Art by ETHAN VAN SCIVER

Cover by JASON FABOK

As the events of DARK NIGHTS: METAL rock the DC Universe,the creatures of the Dark Multiverse stand ready to invade our world! How can even the World's Greatest Heroes stop a horde of deadly beings that appear to be powerful, nightmare versions of familiar figures? Find out in these special tie-in issues!

ADVANCE SOLICITED •ONE-SHOT • On sale OCTOBER 4 32 pg, FC, $3.99 US • FOIL-STAMPED COVER • RATED T
Looking at the preview, the Batman we know and this Green Lantern Batman's origins start off as we all know. A young Bruce Wayne is walking down an alley with his parents when they are gunned downed and killed by Joe Chill, but that's where the similarities end.
Whereas our Bruce Wayne vowed vengeance over the dying bodies of his parents and would spend his entire life training to become the Batman, this version takes a different turn. Right as his parents are murdered, we see Bruce is chosen by a Green Lantern ring and the young boy, full of anger and hatred, uses the ring's power to vaporize his parents' killer. Obviously, this event and discovery of power leads Bruce down a much different, and darker path to turn him into the villain we will meet in Metal.
It's interesting to note that when young Bruce is first given the ring, he has a normal looking Green Lantern outfit on. One that is reminiscent of something Hal Jordan wears, but when we see him grown up, he adapts the Batman persona onto it. A demonic, skeletal bat is what he summons to kill Joe Chill, so maybe that is the "bat breaks through the window" moment for this version of Bruce.
Snyder has explained that each of these evil Batman doppelgängers answers the question that rings in all readers' minds regarding Bruce Wayne. What would happen if Bruce could tap into the Speed Force? What if he embraced Apokolips to battle the Justice League? And now, what if he was given the universe's most powerful weapon at the time of his parents' murder?
Fans can learn more about the evil Batman Green Lantern in Batman: The Dawnbreaker #1 on October 4th, 2017.