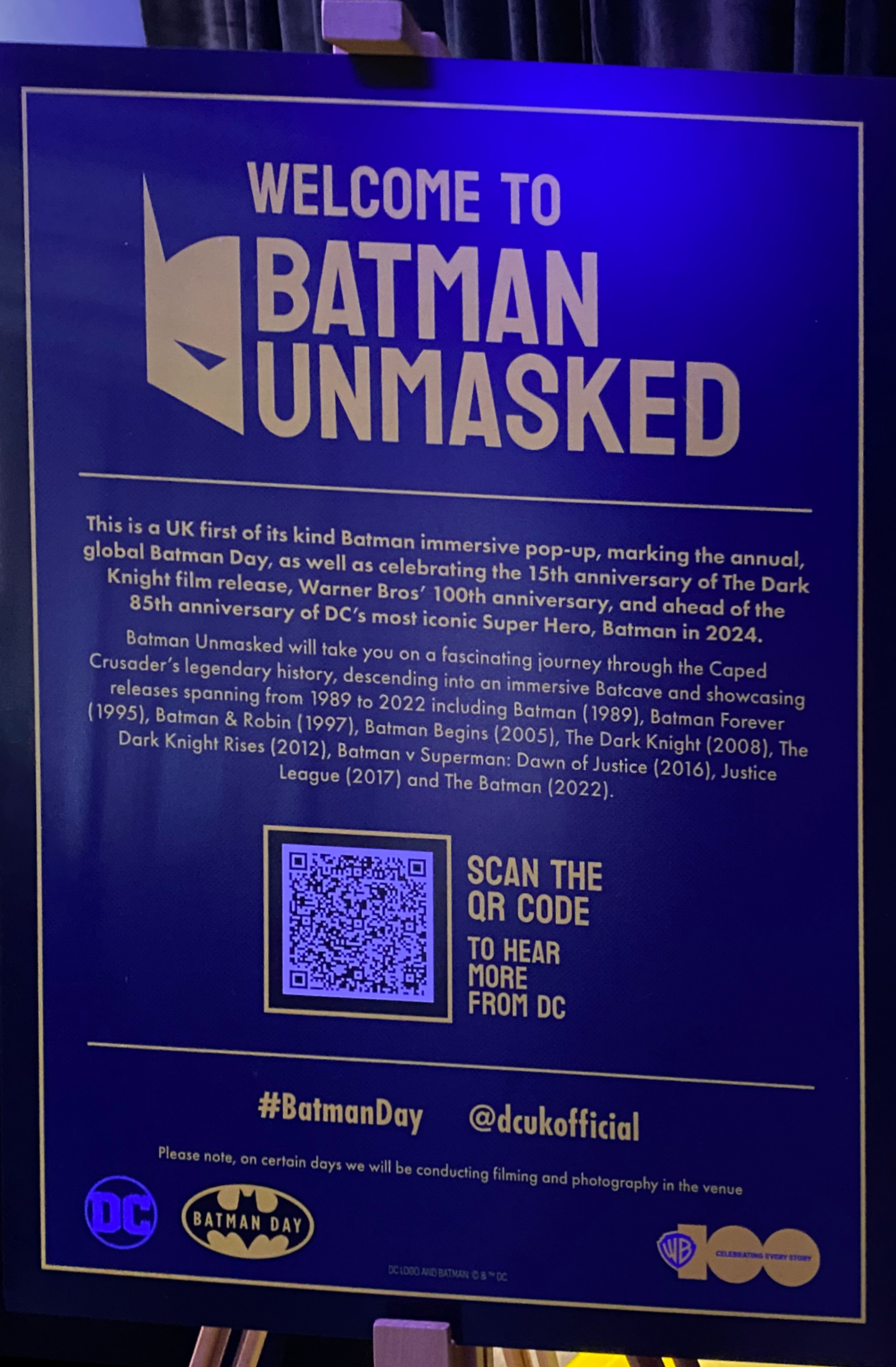 Jumping Jakalopes, Batman! Celebrating Batman Day and 15 years of the Christopher Nolan Batman movies, Batman Unmasked is a pretty special event.
London Piccadilly was not ready for any of this.
Dark Knight News got the opportunity to have an early look around, and this is what we discovered.
This is the first exhibit of its kind in the UK, a pop-up museum that holds wonders for everyone and anyone. All Batmaniacs are welcome, and there's something to see for fans of all ages.
The best part? It puts the focus squarely where it needs to be… the comics.
As you enter, down a staircase, you're taken down into the Batcave, complete with the Batcomputer and a dramatic podium for selfies and justice. It's wonderfully atmospheric and puts you squarely into the leather jackboots of the Bat. It even has its own haze supervisor! That's dedication, right there.
You're then taken back upstairs to go through the museum area of the exhibit, boasting a ton of props, suits, and vehicles from the iconic Batman movies. The Batcycles are even available to rent!
On your way through, you pass through the terrifying Joker room. I'll let you all find out about that one for yourselves. It still haunts me when I close my eyes.
Finally, we have a huge area filled with interactive activities for you to enjoy. There's a lot about this room to experience, from the new coloring book sets that DC hasn't even released yet to the gift shop filled with exclusive items, but there's one all-important detail in here that most exhibits miss out entirely; comics.
Upstairs in the main room, there's a huge library of Batman and Batman-adjacent comics for people to read and enjoy. I cannot stress enough how important this is.
You walk into an exhibit all about the movies, you walk through rooms full of things you recognize from pop culture, and that's how it's marketed to the general public. As you leave, that's when you're introduced to a whole new world of Batman media. This exhibit is designed as much to educate people on the origins of the character and introduce people to comics, as it is to celebrate Batman's presence on the silver screen.
The event goes out of its way to show you why Batman's such a huge part of the cultural zeitgeist, and how he was even before his screen debut. I cannot understate enough just how cool this was to see. They even had copies of Batman: Gargoyle of Gotham! That only came out this week!
Batman Unmasked is a pretty special experience. From the pictures to the publications, all facets of Batman are celebrated under one roof, and if that's not worth seeing I don't know what is.
It's only around from 15th-17th of September, so make sure you take some time out of your weekend to celebrate the Dark Knight.
Advance preview courtesy of Warner Bros. UK. Photos taken by the author.