"Revenge of the Gods" – Book Two
Writers: G. Willow Wilson, Becky Cloonan, Michael W. Conrad
Artists: Cian Tormey, Emanuela Lupacchino, Alitha Martinez, Mark Morales, John Livesay
Colour Artists: Jordie Bellaire, Alex Guimarães
Letterers: Pat Brosseau, Becca Carey
Following on from Wonder Woman #797, Lazarus Planet: Revenge of the Gods #2 continues this excellent comics event and introduces a new player into the Gods' great game. Oh boy, it's Billy Batson time. Time for both Champions of Shazam! to get involved!
Power
Noooo no no no.
– Shazam!
What an absolute smorgasbord of some of my favorite characters this issue turned out to be. Mary Marvel, Yara Flor, Shazam! (or The Captain now), I'm spoilt for choice!
Lazarus Planet: Revenge of the Gods #2 comes in fast, and doesn't let up the pace for the whole issue. First, Billy's dealing with giants, then he's receiving a prophecy, then he's traveling across the country. The poor guy's having a long day! Of course, the Mysterious Stranger also pops up again. I'm beginning to wonder about him and his role in all of this…
Heroes
Mortals. Always panicking early.

– Mysterious Stranger
Gods, the main story in this issue's well-written!
G. Willow Wilson's Shazam! is funny, confident, and naive in all the ways that he should be. It's easy to forget when he's all powered up that Billy Batson is a teenager, and thinks like one, even with the wisdom of Solomon. This issue captures that perfectly.
Wilson's Mary Marvel is… for lack of a better term, big sister-ly. She shows up for her little brother and takes the responsibility that's too much for him without a second thought (though not without protest). She's the real head of the family, even with Billy being the "leader".
Her Yara Flor is as pragmatic and practical as I've come to expect from the character. She's still got the attitude, she's still got the fire, but she's a realist. She's the first to accept that Diana must have failed (see Wonder Woman #797 for how her mission turned out), and is the first to consider alternative options.
Basically, Wilson's a brilliant writer and has nailed all these characters (regardless of how recently they were introduced). This is why I've really liked the entire Lazarus Planet event so far. The writers have done their research and have taken the characters to new heights. More, please!
Cian Tormey, Emanuela Lupacchino, and Jordie Bellaire have a real knack for drawing Gods and otherworldly scenes. I'm loving the whole aesthetic of these issues, the simple linework and vibrant colors are giving life to the realms of Earth and Olympus, and defining them in very interesting ways. Again, I'm getting big Black Adam vibes from all of this, I feel like he will be a necessary inclusion before the end given THAT ending…
Plague
Lazarus Planet: Revenge of the Gods #2 returns to Themyscira for its backup story. The battle for Themyscira, and the very souls of the Amazons, has begun. The Gods have abandoned them, but a new God has extended a new offer, one they may have no choice but to take…
Becky Cloonan & Michael W. Conrad are approaching the end of their run on Wonder Woman and the Amazons, and they're clearly aiming to go out with a bang. I can think of no better finale to their tenure than this tale.
Alitha Martinez, Mark Morales, John Livesay, and Alex Guimarães bring the darkness to this story. Considering the subject matter, it's entirely appropriate and gives the proceedings a sense of looming urgency. Just like Lazarus Planet before it, the oppressive atmosphere adds wonderfully to the story. It's very reminiscent of the Battle of Helms Deep, which just makes me incredibly happy.
Conclusion
Lazarus Planet: Revenge of the Gods #2 gave us everything I've liked about this event so far distilled into one issue. Grand stakes, a highlight on lesser-known characters, fantastic art… there's nothing here to object to. I'll be sad when it's over, but Gods, am I enjoying it while it's here!
Pick this, and the rest of Lazarus Planet up. You will not regret it.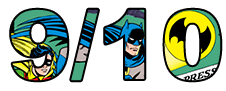 Images Courtesy of DC Entertainment