"Vice Versa" – Part One
Writers: Becky Cloonan & Michael W. Conrad
Artist: Robbi Rodriguez
Color Artist: Rico Renzi
Letterer: Becca Carey
Review by Fay Clark
Here we are, it's that time of year. The Annuals are out and the plot keeps on cranking up! I used to think it didn't matter if you missed the Annual, oh my gosh was proved wrong this time?!? The Batgirls 2022 Annual carries on from the events of the monthly series.
Let's see what craziness this bumper issue has in store.
Ooooo, freaky… It Must be Friday
So, this is what we're doing now? Becky Cloonan and Michael W. Conrad, you have some explaining to do! After everything you've put the Batgirls though in the series so far, now you pull this?!? I'm trying so, very, hard to not tell our readers what it is that's happened, as they must go and read it for themselves in the Batgirls 2022 Annual, hopefully they'll understand my ramblings then.
As per usual, Cloonan and Conrad have pulled a plot line out of thin air and manage to make something great with it. I love the wildness of this tale as, honestly, it's not something I would ever have seen coming, yet I still can't believe we haven't seen it before.
Cloonan and Conrad consistently make the characters we read about come to life on the page. Even though this issue's a lead on from the series, you can tell that this annual feels different, almost like it's a bridge to the next arc. That doesn't mean that the characters or writing are going to change, though. Becky and Michael will always come through for us. The twists are immaculate, and even I didn't see them coming, which says something, as I'm a professional book reader!
Should be in a Museum
ROBBI! I feel like it has been so long since I have had the opportunity to fawn over this man's work. Robbi Rodriguez and Rico Renzi have come into the Batgirls 2022 Annual and smashed it out of the park. Seeing people's different depictions of the same characters always gets me.
I know who these people are, and they overall look the same, but the difference in style is always so interesting to get used to again. Rodriguez instantly brings a different vibe to the whole Annual. I love seeing the detail he puts into his work, as it really is the little things that get me as a reader, the small details just add so much to the comic.
Conclusion
There's no way you should miss this annual! We have amazingly well written characters, with visually stimulating artwork by hugely talented people. The Batgirls 2022 Annual was nothing like I expected, yet somehow everything I needed from these. The bonding and closeness you get to see with get you in the feels, and I love it.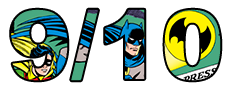 Images Courtesy of DC Entertainment