"The Tower " – Finale, and "House of Gotham" – Finale
Writers: Mariko Tamaki and Matthew Rosenberg
Artists: Amancay Nahuelpan and Fernando Blanco
Color Artists: Jordie Bellaire
Letterers: Ariana Maher and Rob Leigh
Review by James Attias
Deb Donovan kicks off Detective Comics #1058 with a summary of the events that happened at Arkham Tower, also planting some clues and seeds for what is to come. With the Tower designed to help those in need, is Gotham starting to heal?
I Told You So
Deb Donovan says it best, no one expected Arkham Tower to succeed, but she also asks the question of why the city let the events happen at all. This is a tell-all issue summarizing the events of the Arkham Tower Saga; shared from numerous characters' perspectives and the possible consequences to come. Though this issue does offer hope, every time it shows us a shadow on the city, it offers us a glimpse of light.
We get small peeks into how the characters we've gotten to know are coping, what they're feeling and are doing after this entire ordeal. Mayor Nakano's being scrutinized by the people of Gotham because he fully endorsed the Tower for such a long time. With the citizens wondering how he let this happen, we know. It was due to his wife seeking therapy for her traumas. The Mayor still has hopes in his heart that the Tower can help this city, so he calls upon a trusted ally to help him rebuild and this time, do it right.
We also see the Penguin chasing after the money and people who swindled him for it, but there's a Bat in sheep's clothing waiting for this fat waddling wolf! There are plenty of moments with Huntress, Harley Quinn, and even the Psycho-Pirate, who's now on the run, that make this issue a great finale and also a great jumping-on point for readers looking to hitch on to the genius that is Mariko Tamaki's Detective Comics.
The tease at the end is for a character I've very much been looking forward to seeing written by Tamaki, which has me excited. The art in this issue was outstanding too! Amancay Nahuelpan you've proceeded to get better with every chapter and this was a high point! I loved the story, equally loved the art, and very much loved the teasers.
Not Your Story
Tears, heartache, and a very difficult existence. That's what reading these last 12 weeks of the life of Roy Dowd has shown me. It all comes together in this heart-wrenching finale. Every piece of the puzzle comes together to present a masterpiece of a tragedy. If you were hoping this story would have a happy ending you're not alone, just have the tissues handy as this one will stick with you. Truly outstanding writing.
Conclusion
Detective Comics #1058 was a wonderful conclusion to a wonderful series. We were treated to so many characters, twists, and turns that I want to go back and read the whole thing again… which I will as soon as it comes out in Trade.
Highly recommended to anyone who loves a mystery thriller!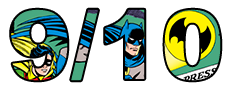 Images Courtesy of DC Entertainment