Sideshow Collectibles have released a brand new fine art print inspired by DC Comics' most famous dysfunctional, toxic, and psychotic couple, Harley Quinn and The Joker.
The officially licensed DC Comics print by the artist Heonhwa Choe (AKA Kilart) features Gotham's Clown Prince of Crime The Joker alongside the Mistress of Mayhem. The print shows the pair in a carnival setting, with Joker preparing to be launched from a cannon and Harley Quinn holding a lit match.
In the picture, Harley's dressed in her classic black and red, and The Joker has his trademark purple suit, bright green hair, pale painted face, and maniacal smile.
Harley's facial expression's very realistic, it almost looks more like a photograph rather than a painting. Her skin-tight costume's so highly detailed that it actually appears as though it is made from leather or latex, and the pom-poms around her collar actually look fluffy.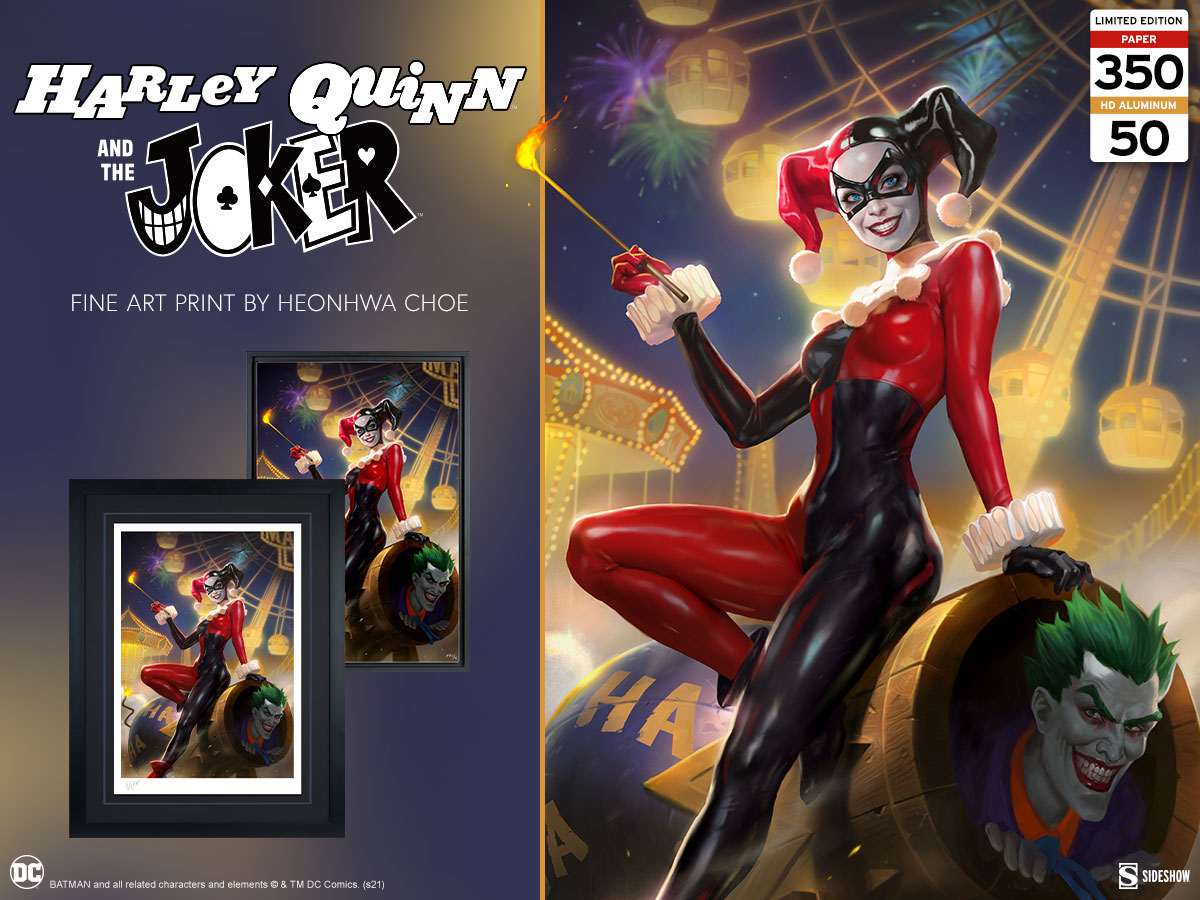 The Joker's face is also very detailed, but where Harley's face is realistic I think he has more of a cartoon/comic book look to him.  The cannon that Joker's preparing to be launched from is almost the same purple as his suit, has Ha Ha Ha painted on it and the fuse appears to have been lit by Harley.
The background of the print shows a carnival setting with a carousel, Ferris wheel, fireworks, and stars in the night sky. The detail in this print is exceptional, as there are many tiny details, such as the wood appearing to be cracked and chipped on the front of the cannon, the sparks and smoke from the lit fuse, the Ferris wheel gondolas, the carnival lights, and the top of the carousel.
I love almost everything about this print; it's bright, fun, the colors are gorgeous, and I notice something different every time I look at it.  Any DC Comics, Harley Quinn, or Joker fan would love this print and it would look great in anyone's collection.
This print comes unframed, on giclee paper, measures 18×24, and is a limited edition with 350 pieces available. It also features an authorized, automated artist signature and an embossed seal of authenticity.
The print is available to pre-order from Sideshow Collectibles, costs $95 / £70.90, and is expected to ship July 21 – August 21. A matching Diorama is also available. Is this one that you'll be adding to your collection? Let us know.
Images and Press Release Courtesy of Sideshow Collectibles