Writers: Matthew Rosenberg, Brandon Thomas, Che Grayson, Chip Zdarsky
Artists: Marcus To, Alberto Albuquerque, Eddy Barrows, Jesús Merino
Color Artists: Adriano Lucas, David Baron, Luis Guerrero, and Antonio Fabela
Letterers: Becca Carey, Aditya Bidikar  Steve Wands, and Saida Temofonte
Review by Carl Bryan
Warning – Small spoilers follow
The Dark Knight may be the biggest name in Gotham City, but there are lots of other heroes, and villains, who get a turn to shine in Batman: Urban Legends #3.
The new Batman anthology series continues!
The mystery around Cole Cash and HALO deepens as Batman takes a more active role investigating the man known as Grifter. But other villains in Gotham have begun to notice what Grifter is up to, and they're about to attempt an assassination! How long can the unlikely team-up between this Dynamic Duo last?
The Outsiders epic reaches its end with the return of three iconic Outsiders: Black Lightning, Katana, and Metamorpho, all reunited to face down Katana's mother-in-law! This finale will change the makeup of the Outsiders forever and set them on a new trajectory in the DC Universe!
Red Hood and Batman fight over what they should do with the child who is now orphaned as a result of Red Hood's temper. While they place the child temporarily under the care of Leslie Thompkins, she debates if she's doing the right thing. Is she just looking after another Robin in training?
Gotham has a lot of heroes, villains, anti-heroes…

It makes you wonder how people get a regular job in Gotham, as everyone seems to be either in the Bat-Family, a member of some type of crime syndicate, or a victim. At any rate, I love the fact that Urban Legends explores every the nook and cranny of Gotham, with all its heroes and anti-heroes.
Red Hood… those scars run deep

Red Hood still has some growing up to do, but Bruce does as well, particularly in how he works with his former Robin. The mystery runs deep and a bit frosty (there's your spoiler) as Batman and Red Hood work (together?) to rid the streets of the new designer drug Cheerdrops.
Flashbacks do a great job of telling the story of  Jason Todd.  In fact, in this story, he reminds the reader of Damian Wayne a bit. I didn't see the ending to this chapter coming and that's just a part of the great writing in this chapter!
What a script by Chip Zdarsky.
Barbara… Jason… Dick
In this book, Barbara pulls on the heart strings of Jason Todd. However, if you turn to the pages featuring Nightwing, Barbara and Dick seem to be a "thing"… much to the chagrin of Stargirl. Barb's going to be a conflict point that will eventually play within the family a bit.
Grifter – More There than Meets the Mask?
Grifter is a scoundrel in this book and the fact he can go toe to toe and fist to fist alongside Batman is pretty impressive.  The guy does bring out two pistols when battling and somehow doesn't draw Batman's wrath. Again, his involvement has been quite the enigma in Gotham, as it allows me to think that more Image Comics characters can visit. If that's possible, maybe we can look at some Marvel guys lighting up the sky again.
Lady Shiva…

Whew.  That was close… real close! The female protagonists in Batman's life have always been very very strong.  While we often turn to Talia, Barbara or Selina, Lady Shiva belongs on that Mount Rushmore as well, as she's an accomplished warrior, and arguably one of Bruce's best teachers.  This time Bruce himself provides a lesson or two. It's a poignant story on parenthood and growing up!
Conclusion
Batman: Urban Legends #3 keeps making Gotham City the ultimate playground. It's a perfect outlet for the Outsiders,  Grifter gets some ink time and Red Hood continues his adventures, too. It all comes together neatly under Batman's shadow.
My best recommendation is to go back and get issues #1 and #2, them pick up #3.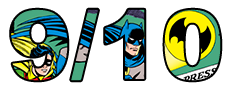 Images Courtesy of DC Entertainment