Writer: Steve Orlando
 


Artist: Amancay Nahuelpan
Color Artist: Trish Mulvihill
Letterer: Tom Napolitano
Review by Carl Bryan

Gotham City Monsters #6, it all ends here! Melmoth is looking to destroy the world before anyone else gets their evil hands on it, but he'd better watch out – the Monsters aren't ready to see their planet die. It may not treat them the best, but it's home! Frankenstein in particular has a big stake in stopping Melmoth. If he can defeat this diabolical mastermind once and for all, it means he will be free of the curse of their shared blood.
Steve Orlando concludes what should be a promising future in the world of Gotham City, and sews up the comic quite well. Providing too many details in this review would turn off a reader, as you need to read it to believe it. However, he uses Frankenstein, Lady Clayface, Orca, and the Vampire Bennett to provide the reader with a reinforcement that maybe all these "villains" are simply misunderstood and society has forced their hand.
Lady Clayface is a personal favorite, and somehow, I hope she ends up in the pages of Batman!
A Fitting End!
No one is more misunderstood or really wants to be a part of society than Killer Croc.  From his adventures in opposing Batman to his role in Suicide Squad, no creature has deserved a better "ending/beginning" than this one. Orlando even provides a pause for readers in applying some good old fashioned Kant philosophy, in that these two teachers must die and all versions of Gotham must be  sacrificed in order to stop Perpetua.
Orlando sews up this package so we can believe that all's well that ends well. Only Batwoman seems to be the thread that both connects the Monsters to Gotham, and as someone who could also prove to be an advocate for them, if they're ever called to action again.
Art at its finest
Amancay Nahuelpan has really outdone himself in this series. The intricacies of his drawings have been superb and have breathed new life into characters that are somewhat taken for granted.  The issues that contained the "childhood" monsters, like the original Frankenstein and Dracula, paired with new incarnations are superb.  Killer Croc is as menacing as he should be and Batwoman's just plain awesome.
The swamp background with the Grundys is perfect. Kudos to Nahuelpan! We are rewarded with every frame and on every page!
Conclusion
Gotham City Monsters #6 concludes this mini-series, but I'm still hoping that elements of these stories can be taken over to JL Dark.  Come on Steve…. have Frankenstein talk to Wonder Woman, surely something can be worked out?
Steve Orlando… Thanks for this side street in Gotham City!  I hope you take us down it again!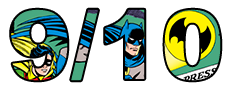 Images Courtesy Of DC Entertainment