Article by Adam Poncharoensub
In case you hadn't made it out to watch the first of two creepy clown movies this year, you're actually missing out on something very important for DC fans. IT Chapter Two surprised viewers, myself included, with a very unexpected trailer to Birds of Prey and the Fantabulous Emancipation of One Harley Quinn. Both trailers have elicited an extremely funky and bright vibe that's definitely enticing me. While each clip has attempted to showcase the Birds of Prey, mostly with quick, successive glances and no character posters, it looks like DC Comics is giving us a pretty comic-booky look at the cast. Early next year, we're getting some new trade paperbacks of previous stories centering on one member of the Birds of Prey, each adorned with a gorgeous cover illustrating a member of the Birds of Prey cast, as they look in the movie.
DC Comics have released some solicitations for three new trade paperbacks. Each book will feature previously published stories centering one member of the Birds of Prey, that will be featured in the upcoming flick. We'll be treated to brand new covers with art featuring a member of the Birds of Prey cast; Mary Elizabeth Winstead as Huntress, Margot Robbie as Harley Quinn, and Jurnee Smollett-Bell as Black Canary. Artist Tula Lotay illustrated all three breathtaking covers.
Take a look at the solicitations below:
Take aim
BIRDS OF PREY: THE HUNTRESS TP
written by GREG RUCKA
art by RICK BURCHETT
cover by TULA LOTAY
In these stories from Batman/Huntress: Cry for Blood #1-6, the Huntress is framed for murder, and while avoiding the G.C.P.D. and the Bat-Family, she revisits her childhood in hope of discovering the true culprit. But as she and the Question seek clues to prove her innocence, more murders implicating her are committed, forcing Batman and Nightwing to confront her in a showdown with unexpected results!
ON SALE 01.01.20
$16.99 US | 152 PAGES
FC | ISBN: 978-1-4012-9890-6
She's so over clowns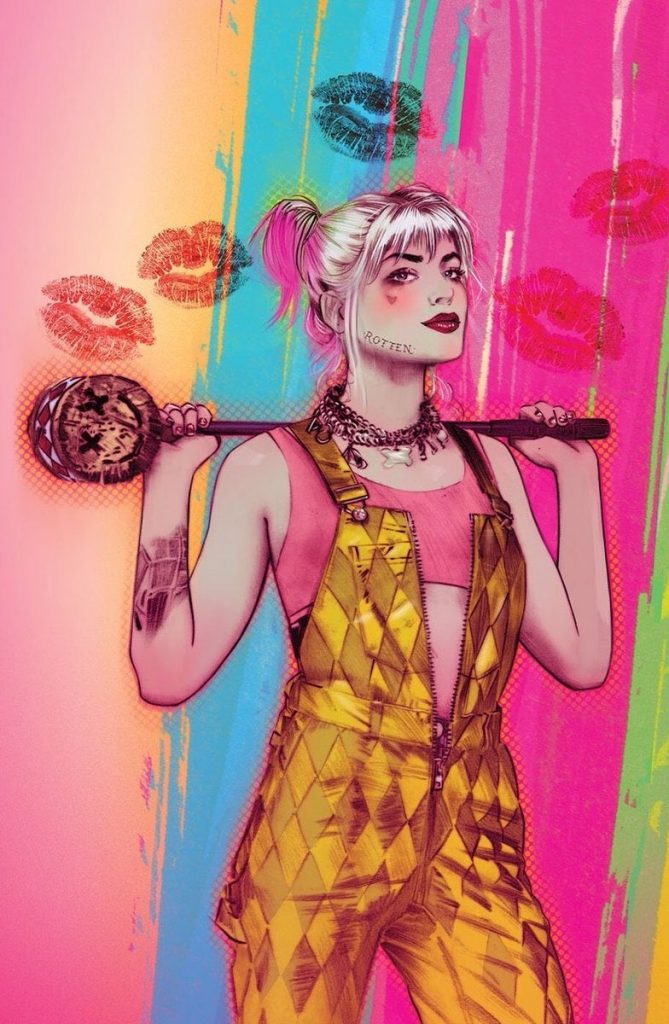 BIRDS OF PREY: HARLEY QUINN TP
written by AMANDA CONNER and JIMMY PALMIOTTI
art by CHAD HARDIN and STEPHANE ROUX
cover by TULA LOTAY
When Gotham's favorite sociopath inherits a building on the famous Coney Island boardwalk, she feels right at home in the (literal) freakshow. Unfortunately, the legion of bounty hunters after the price on her head seem to know it, too. Who else but Harley Quinn could handle all that Brooklyn's criminal underbelly has to offer—Russian spies, senior citizens, and rival roller derby teams included—and still have time for a double chili dog! Collects Harley Quinn #1-7 and Harley Quinn: Future's End #1 and a story from Secret Origins #4
ON SALE 01.22.20
$19.99 US | 208 PAGES
FC | ISBN: 978-1-4012-9892-0
The yellow stands for canary?
BIRDS OF PREY: BLACK CANARY TP
written by BRENDEN FLETCHER
art by ANNIE WU, PIA GUERRA, SANDY JARRELL, and MORITAT
cover by TULA LOTAY
Rock star. Public menace. Martial artist. Superhero. Dinah Drake is all these things and more—and she's got the legions of fans, friends, and foes to prove it. But there's a part of her life she's never been able to get a handle on, a role she's never been able to play: daughter. Her mother went missing, and took the secrets of Dinah's own past with her. Now a mysterious cult is determined to dig them up, and Dinah must go on a whirlwind tour from Gotham City to the nightclubs of Europe. Collects Black Canary #1-12 and Black Canary Sneak Peek #1.
ON SALE 01.15.20
$19.99 US | 288 PAGES
FC | ISBN: 978-1-4012-9891-3
Goodnight, baseball bat. Good morning, mallet.
The books will be released throughout January 2020, which leads up to the February premiere of Birds of Prey and there's a lot to unravel here. Interestingly, instead of the purple and black leather ensemble that Huntress is known for, she's given a fairly modest (compared to her comic book counterpart) all-black leather outfit. In doing so, they've decided to change the color on Black Canary's outfit in favor of yellow… because of the canary part, I suppose. My favorite detail? Harley has bequeathed her trusty bat to Canary and is now sporting her trademark mallet. Harley's look isn't my favorite, but it's fine. However, the most egregious addition is definitely that face tattoo.
Check out the latest trailer below:
Birds of Prey: The Huntress hits shelves on January 1, 2020. Black Canary sees the light on January 15. Lastly, Harley Quinn concludes the trade paperbacks series the following week on January 22, 2020. Birds of Prey and the Fantabulous Emancipation of One Harley Quinn hit the big screen on February 7, 2020.