"War"
Writer: Tom Taylor
Artist: Runo Redondo
Tensions rise in the Injustice-verse, as Tom Taylor cranks the intensity dial to eleven in this week's Injustice 2 #32.
Continuing their Lantern-centric story arc, Taylor and the team produce an impressive issue that manages to juggle an ever-expanding cast while delivering wonderfully intimate character moments that significantly contribute to the long-form narrative of the title.
Injustice 2 #32 is a prime example of how Taylor succeeds with the seemingly impossible task of balancing plot and character. From start to finish, the issue focuses on a single space battle, as the Red Lanterns along with Starro continue their assault on Oa, home to the Green Lantern Corps. Amidst the chaos and carnage, Taylor's cast of characters shines – especially the recently recruited Green Lantern, Lobo, who has a flair for phallically shaped constructs.  
While Lobo's outlandish antics steal the show, the main drama of this issue revolves around Hal Jordan and Sinestro, both of whom are currently members of the Green Lantern Corps. Injustice 2 #32 marks a turning point in Hal Jordan's journey towards redemption. Hal, who has been struggling with the fallout from his role in the events of the first Injustice series, manages to take leadership of the Corps after receiving a poignant pep talk from his mentor turned rival, Sinestro.
A Game-Changing Issue
Injustice 2 #32 is an extremely significant issue for Taylor's overarching tale. The last few pages build to a crescendo, as the writer not only kills an important character but also introduces a game-changing villain whose impact will undoubtedly change the tides of the war for Oa.  
Runo Redondo's sleek pencils are a joy to behold, rising to challenge posed by Taylor's bombastic script. The aesthetics of spin-off comics can often feel inauthentic and clunky, as artists often try to recreate the visuals from the source. Redondo does not fall into that trap, rather he renders these characters in a beautifully iconic fashion, lulling readers into a false sense of security and thereby magnifying the intensity of the more shocking moments in Taylor's non-canonical story.
Conclusion
One of the greatest strengths of the Injustice titles has been their scope. Taylor performs a herculean task with ease, as he continues to flesh out this alternate universe. Injustice 2 #32 maintains fidelity to the core concepts of DC's pantheon while constantly surprising the reader with plot twists that could only occur outside Earth-0 continuity. It's a high octane, slam dunk issue that leaves its readers breathlessly anticipating what's to come next. Check it out.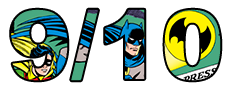 Images Courtesy Of DC Entertainment