"JLA Rebirth"
Writer – Steve Orlando
Artist – Ivan Reis
Following up on the Justice League vs. Suicide Squad arch, Justice League of America Rebirth #1 begins writer Steve Orlando's run on this JLA title. In the preceding storyline, readers saw Killer Frost find her heroic side, sacrificing herself to save the world. As a result, Batman negotiates with Amanda Waller for her release from the Suicide Squad (for the full story, see Justice League vs. Suicide Squad #6). Due to her heroic actions, Batman grants Killer Frost a second chance–a chance to join the Justice League–and a new lease on life.
Like Killer Frost, it seems this iteration of the Justice League is a team full of second chances. Batman forms the team after realizing the world needs a different brand of heroes—heroes they can know, heroes that can inspire the hero within. "Heroism is a community. And it starts with the Justice League."
In contrast to the classic Justice League rosters of the past, Batman pulls together an unexpected group, including:  Killer Frost, Black Canary, Lobo, Ryan Choi (with Ray Palmer's Atom tech), Vixen, and a new hero, The Ray (Ray Terrill). This cast presents an interesting palette from which Orlando can create. While Killer Frost seems to relish her second chance, Lobo remains a loose cannon–anathema to both Batman and Black Canary's no-nonsense approach. Ryan and Ray are green and untested, while Vixen contemplates her role
The new-look Justice League has cool gadgets at their disposal. The team headquarters in the Sanctuary, a Batcave-like base. They use a transmitter token, which allows quick teleportation to other locations. Inclusion of details like these provide readers with ample reason to believe Orlando has long-range plans for this team's narrative.
The art in Justice League of America Rebirth #1 is beautiful. The colors and contrasts are exquisite. Batman's costume is similar to the style established in the title, Justice League vs. Suicide Squad. Therefore, his chest is adorned with a black Bat emblem outlined in gold. However, his purple cape is left behind — a change well received by this reviewer. The settings and physical locations are highly detailed and, consequently, add depth to the story and panels. In contrast to other issues, the lettering of this issue places emphasis on certain words by rendering them in bold. This was simultaneously phonically effective and visually distracting.
Conclusion
While the new team is odd, it provides a unique perspective on what it means to be a hero. The addition of Lobo and Killer Frost alongside rookies and veteran heroes alike affords Orlando plenty of fodder for intriguing narrative. The inclusion of unique characters in Justice League of America Rebirth #1 leaves readers imagining what tales, and troubles, this new team will encounter. After all, with friends like these…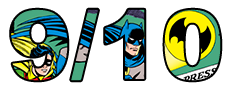 Images courtesy of DC Entertainment.