"Zero Point" – Part Six
Writer: Christos Gage
Artists: Reilly Brown and Nelson DeCastro
Color Artist: John Kalisz
Letterer: AndWorld Design
Review by Philip Clark
It all comes down to this, Batman/Fortnite: Zero Point #6, the final issue… for now. The Bat and The Cat have been left stranded underneath Fortnite Island by Deathstroke.
What hope do they of getting back home now? One dressed in red and black, dressed like a playing card.
Home Is Where The Harley Is
It makes perfect sense that the one person who would thrive in the chaos of Fortnite Island is Harley Quinn, and this issue shows as much. With things looking dead in the water for our heroes, they both recall a connection to the crazy clown princess. A quick trip back into the Loop gives them some answers and even more questions. Most importantly, it gives them a way out.
Emotions run high between the three as this mini-series comes to an end. Harley doesn't want to leave, whereas The Bat and The Cat are both desperate for a way out. Even if escape is possible, however, will their relationship still be the same when they get back home?
The writing and art in this series have been fantastic from day one, but I feel I have to comment on the work of John Kalisz this month. I really like the purple hue that the majority of this comic has while it takes place in front of the backdrop of the crack in reality, that's there to take our heroes home. Kalisz does a great job at keeping that as an undertone throughout the comic.
Conclusion
Batman/Fortnite: Zero Point #6 about as close to the perfect issue as we could have gotten, as all of the unanswered questions and little breadcrumbs left by Gage throughout the run were neatly tied up in a bow. We're also given a look at the puppet masters behind The Loop and Deathstroke's involvement.
The trouble is, I still want more.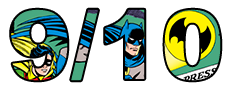 Images Courtesy of DC Entertainment