Batman cover artist Joe Quesada has showed off the large anniversary #900 cover for the celebratory issue of the comic series.
As you can see, there are a ton of Batmen celebrating 900 issues of the flagship title, but also some 80-odd years of the character. The amazing cover is actually made up of two interconnected variants. That means if you want the complete effect, you have to buy two copies of Batman #900. The book will also be available with a wraparound black and white ratio variant cover (1:100).
Speaking of all of the Batmen, are you able to identify them all? If not, then that's okay. Joe Quesada created a nifty version where he labelled all of the different Dark Knights.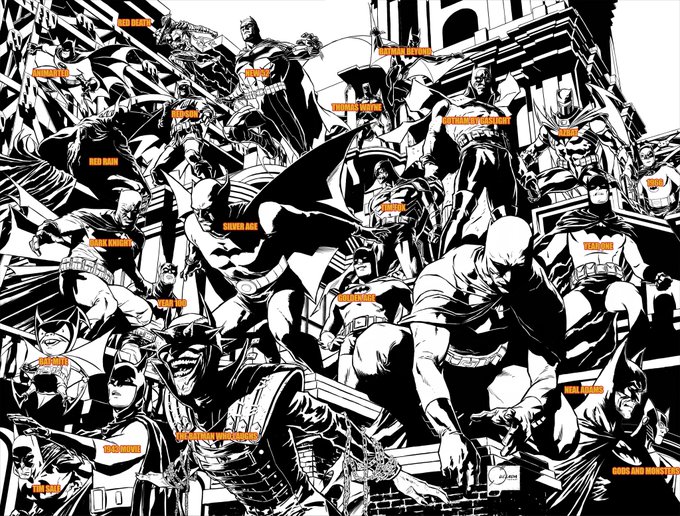 Personally, I was only able to identify about 3/4ths of them. I certainly didn't get the Batman from Year 100 or the Neal Adams' styled Batman.
There are certainly a ton of character variants that are missing. After an informal Twitter poll where people responded which missing Batman they'd wish could be included, Joe Quesada gave a perfectly frank and sensible reason why some are missing.
After years of not drawing Batman, I may have overcompensated with 23 on one piece.

For those wondering why some versions were omitted, there are two reasons, none of them having to do with the amazing story.

1- I couldn't fit anymore if I wanted to.
2- I was really tired. pic.twitter.com/AN0rxO3fYV

— Joe Quesada (@JoeQuesada) April 7, 2023
Totally get it, Joe. Go rest your amazing artistic hands.
Batman #900/135 will hit comic shops on May 2nd.
Source: Twitter.com
Images may be subject to copyright