Writer: G. Willow Wilson
Artist: Marcio Takara
Color Artist: Arif Prianto
Letterer: Hassan Otsmane-Elhaou
Review by Fay Clark
Issue #1 gave us an amazing start to this new series. I didn't realize how incredibly awesome this story was going to be, so couldn't wait to continue with Poison Ivy #2. So, let's jump right in and see what Pamela's up to!
Hero? God? Villain? Activist? Poison
Pamela can go by many names and has several labels that define her. The only thing that will stay the same is that she's Poison, through and through. Oh… and that she's deeply in love with Harley! Having the ability to go in-depth with Poison Ivy's character has been great.
There have been so many things happening to Ivy lately that I'm kind of glad that G. Wilson has gone almost completely back to basics with the character. Poison Ivy #2 is really giving readers the OG Pamalam. We see her using some powers that I don't think have been as utilized as well as they could have been, in some of the more recent versions of Ivy. Wilson really seems to have done her research on Ivy, to understand her motives and Ivy as a person.
I love the interactions and inner monologue that Wilson has given us. The writing really makes you think, it's not just telling you a story, it's also asking you to take some responsibility for the state of our planet. I love a comic that makes you think more about it after you've put it down, and this issue #2 definitely does that. We also got some great extra backstory, I love being able to see a tale unwind in front of us. It keeps the reader intrigued, with slow, gripping reveals.
Sweet as a Rose, Deadly as Nightshade
I love the art in this series, as it really clicks with Pam and the storyline. The slightly fantastical elements feel completely normal and contemporary because Marcio Takara and Arif Prianto work so well together. The color pallet is just amazing; the slightly muted general hues, alongside the vibrant earth tones. It all sets a precedent, that our focus should be on Poison Ivy. Every time I looked at a new panel, I had to sit there and take it all in again, after reading it. If the artwork continues like it is in Poison Ivy #2, then we're all in for a real treat.
Conclusion
If you ever wanted to know more about Poison Ivy, or just wanted to go on a trip with a supervillain, pick up this series. Have you ever wanted to know the thought process behind some of the "evil plans"? Then pick up this series and you will 100% start to re-think your outlook.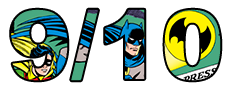 Images Courtesy of DC Entertainment