"Poison Ivy" – Chapter One
Writer: G. Willow Wison
Artists: Marcio Takara
Color Artist: Arif Prianto
Letterer: Hassan Otsmane-Elhaou
Review by Fay Clark
Now, this is a series I've been patiently waiting for. Poison Ivy, oh how we've missed you. I love a good mini-run featuring characters that we all enjoy. Pamela Isley has held us all captive for years with her stories, so let's see if she can do it again in Poison Ivy #1.
Growing new plans
My, my. Ivy just jumps in feet first, doesn't she? I love first issues, the setup's always amazing. It makes sure you know the premise, while also setting up expectations for the rest of the series. This issue does this spectacularly. G. Willow Wilson seems to have a fantastic idea of where she wants the series to go because everything I read in this book; the strong internal monologue and the character interactions were amazing. You can really tell that the writer's put a lot of thought into the way she wanted to word things.
Ivy's back, in a massive way. Taking another road trip, but this time alone, she's off on an adventure. Or, is she just running from something? Maybe even toward something? That's the thing about first issues, you get a lot of information and yet nothing substantial. I know what's happened, but have no idea where things will be going. Ivy's a tough, take no nonsense woman and G. Willow Wilson captures that stunningly.
Follow the trail of Green
I kind of wish I was in this comic. There's something about Poison Ivy #1 that's so visually appealing. I love that Arif Prianto uses the seasons and all the different colors you get out in the world. The use of color is always going to be something magnificent in any Poison Ivy story. You get to use so much more than just neutral tones or "pretty flower" shades. Prianto gets that immediately.
Branching out and using all colors from all seasons is a great idea. Ivy can create beautiful new things, or poisonous dead things and Prianto showcasing that in the first issue was amazing. If you mix that in with the fluid motion and skilled artwork of Marcio Takara you have something truly beautiful. One of the first things that drew me in was the artwork and Takara's depiction of Ivy.
Conclusion
When I found out we were reviewing this series, I jumped at the chance. I love this character and I love seeing what different writers do with her, and her powers. There's so much that can be developed upon, and Poison Ivy #1 is a fantastic start to the series.
I can already feel that it is going to be a great story. You do not want to sleep on this one!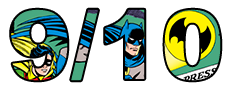 Images Courtesy of DC Entertainment