"Leaping Into The Light" – Part Six
Writer: Tom Taylor
Artist: Bruno Redondo
Color Artist: Adriano Lucas
Letterer: Wes Abbott
Review by Steve J. Ray
Nightwing #83 is about as close to a perfect comic as you can get. Blistering action, brilliant characterization, and beautiful art can be found within these pages… which is exactly as what I've come to expect from this incredible creative team.
Where it excels though, is in how thoughtful, rich, and deep these characters are, and how they're so true to their histories; in the way they speak, act and feel. The amazing part is that Tom Taylor's even managed to let every character's unique voice shine through, even when they don't physically appear in the issue.
We get the World's Finest guest stars (even though one's more of a cameo) and a phone text conversation that made me want to jump up in the air, and scream "YES!" at the top of my lungs. As I'm writing this review in the staff canteen, that wouldn't be the smartest thing to do.
Oh… and I officially LOVE Melinda Zucco and her mom. Yep. Even the brand new characters have grabbed me.
Vin Diesel Has No Idea
Meme and vine lovers will know what I'm talking about. The Bat-Family is exactly that in these pages… a family. I can feel the love and care shining through, not just in the writing, but from the stunning visuals by the fast becoming legendary team of Bruno Redondo and Adriano Lucas. Actually, I have to add Wes Abbott to the list too, because there's a scene I've already mentioned involving a text conversation, that's most likely more down to Mr. Abbott than his colleagues.
Cassandra Cain is embodied magically in this scene, as are the rest of the Bat-Fam. I feel like a proud dad to some of them, and like a hero-worshipping brother of sorts to Mr. Grayson.
We see the MAN in Batman and Superman in this book, and it's real. We're given a sense of family that's deeper, stronger and more meaningful than can be found even in the ones that share blood and DNA. We see heroes, but more importantly, we get actual, honest to goodness human beings too. I love it.
Conclusion
Nightwing #83 has been crafted by a creative team that is a tighter unit than than the JLA and the Navy Seals combined. When a text conversation can deliver a character's voice in such a way that I'd recognize them even if their names didn't appear on the page, you know that you're reading a comic by people who know, love and understand these characters as much as we do.
The brief, but hugely powerful moment between Dick and Batman brought a lump to my throat. I may even have blubbered, but my current location forced me to man-up and shut up.
There's a typo on page 20 that bugged me, which is why this comic is only close to perfect. Yes, I know that's harsh, but when you have a diamond, even the slightest flaw can reduce its value and allure. Either way, I would still recommend this issue (heck, this entire run) as must read to anyone who'll listen.
Nightwing #83 is pure magic.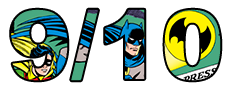 Images Courtesy of DC Entertainment