"Batman's Orders"
Writer: Chip Zdarsky
Artist: Miguel Mendonça
Color Artist: Enrica Eren Angiolini
Letterer: AndWorld Design
Review by James Attias

Justice League: Last Ride #2 starts by giving us exactly what we were pining for at the end of the last issue, a history lesson showing us a portion of the story that led us to the world this story's set in. This is a world where the Justice League almost can't stand the sight of each other.
Apologies For My Lateness
I'm telling you all now, this issue's going to hurt, I can feel it in my bones. Justice League: Last Ride #2 gives us the story of the Justice League's greatest failure, and of their reunion, for one last hurrah. This issue gave me a knot in my stomach, as it's written so well. From one page to the next you can feel John Williams' Superman happy, to Dark Knight Rises ending sad. I applaud the creative team.
Our History lesson kicks off with a Golden Eagle armor-wearing Wonder Woman. She's severing heads and kicking butt on the meant streets of Apokolips, while the rest of the team are trying to protect Oa and evacuate earth(?!) because of something Darkseid has created called a "Boom Nuke'"… I mean, he's just the worst!
When our story comes back to the team, we get some wonderful Wally West Flash moments, when he's interacting with an even broodier than usual Dark Knight. We're treated to Lobo being Lobo, and John Stewart trying to show Superman his doubt in himself is definitely misplaced. Oh, and Superheroes being heroes. What more could you want?!
Conclusion
Chip Zdarsky's constant stream of great work just keeps getting better, and if this series carries on the same way it started; Justice League: Last Ride is definitely going to be up there with the Elseworld stories of Legend. Justice League: Last Ride #2 is a thrill ride you don't want to miss!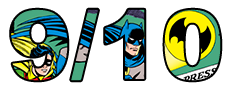 Images Courtesy of DC Entertainment