"If People Are In Danger"
Writer: Chip Zdarsky
Artist: Miguel Mendonça
Color Artist: Enrica Angiolini
Letterer: AndWorld Design
Review by James Attias

Justice League: Last Ride #1 is exactly what you'd expect from Chip Zdarsky writing a Justice League book; mainly not what you'd expect at all. This story feels like an Elseworlds story, but it's one of those comics where the Earth is just similar enough that you ask yourself the question over and over… Is this canon?
Nothing. Ever. Ends.
Our story begins with Superman being Superman; fighting Doomsday and Lex Luthor, and saving kids at the same time. The tale's being narrated by the talented Lois Lane, and for any long time Superman readers this is immediately evident from the purple text boxes; despite them not having her signature double L watermark. The theme of the narrative, is that Superman is tired, he's been doing this a long time, and he's starting to lose sleep.
As the story continues we're taken on a journey through an unfamiliar series of events, the Justice League haven't seen each other in a while, something bad happened and it all leads back to Batman.  There are a ton of other questions I was left asking after the first part of this story: why is Wally West the Flash, why did Superman wreck Batman's giant penny, and what could Batman have done that was so bad, it would make Superman stop talking to him?
At first I was worried about the art in this book, because I judged it by it's cover. The shape of Batman's head on the front of the book scared me, as it was like Samuel Sterns' Leader shaped. Shut. My. Mouth, though… the art in this book is beautiful; the emotions, the movement and the tension are all on point. Miguel Mendonça and Enrica Angiolini smash this one out of the park!
Conclusion
Zdarsky has done it again, he's enticed me in with the first book of this mini-series and has left me screaming for what comes next, AND for what happened before! I highly recommend you adding Justice League: Last Ride #1 to your pull list.  This is the Justice League mini series that all Justice League mini series have dreamed about being for the last 10 years. I for one can't wait for issue #2. WHAT DID BATMAN DO?!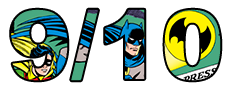 Images Courtesy of DC Entertainment