"Lost And Found"
Writer: Sam Humphries
Artist: Sami Basri
Color Artist: Hi-Fi
Letterer: Dave Sharpe
Review by Kendra Hale
Rich People Crimes
Harley Quinn #73, what a bomb! Harley finally gets to confront Johnny Witts about the murder of her friend Alicia. What's The Catch? After a volatile confrontation with Jonathan Wittleson, Harley is set adrift. She's been slammed with a truth she can't swallow, and is unsure how to deal with it. This is especially and painfully true when she faces Alicia's daughter Becca. She finds friends, not only in Coach Booster, but also in a Seer named Charity XO. 
They help Harley to find her way through some of her emotions, and, as she makes her way into the ring the truth comes out. Harley learns just who the puppet-master, the real mastermind behind Alicia's murder is. With a confrontation looming in the near future, will Harley be truly ready to face it?
I'm A Frackin' Good Kisser! Ask Catwoman!
Harley Quinn #73 includes a lot of heavy issues, like suicide and the pain of loss. These last few instalments have delved into these emotions and these real-world trials, and this time we also get to see the social issues of corporations tearing apart families and neighborhoods, for the sake of the almighty dollar. Sam Humphries and the rest of the team do justice in bringing hard issues like this to light, and they do so in the same way they always have, with heart and sensitivity. 
Conclusion
We're being led one step closer to the end of the series, and with the massive pieces of information we get given in this part of the tale, it's a sure thing that something huge is coming. I will wait patiently, like everyone else, to see how this all plays out with just two issues left in this run. 

So fellow readers, what did you think of Harley Quinn #73, and the truth that was revealed? Let us know in the comments below and I will see you next issue!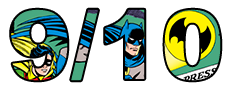 Images Courtesy of DC Entertainment