"Gotham City Monsters"
Writer:
Steve Orlando


Artist:

Amancay Nahuelpan


Color Artist: Trish Mulvihill
Letterer: Tom Napolitano
Review by Carl Bryan

Leviathan has dismantled S.H.A.D.E. and that means Frankenstein is once again a free agent! Now he can set his sights on his former mentor, Melmoth, the one evil that got away. With bad things happening all across the Multiverse, this may be Frankenstein's last shot at setting things right. Of course, Melmoth has his own agenda, and it's going to take more than a lone monster to take him down. So Frankenstein heads to Gotham City in search of allies and recruits Killer Croc, Lady Clayface, Orca and vampire Andrew Bennett. But, can even these dread creatures be enough to save humanity before the entire cosmos collapses in on itself? Read Gotham City Monsters #1 to find out!
Steve Orlando paints a portrait of a side of Gotham City we never knew existed… a part that even the inhabitants of Arkham don't want anything to do with. Forrest J Ackerman, of Famous Monsters of Filmland fame, would be proud of this new DC playground; complete with Frankenstein, vampires, and Lady Clayface. Take the best parts of horror fiction and pair that with a Gotham Rogues Gallery and you get Gotham City Monsters.
This Feels Natural!
As campy as this might seem, and as off-kilter has other books have become in the throwback towards monsters (Scooby Doo, Archie, and the list goes on and on), this actually feels right, with creatures of the night that want to ward off an even greater evil. What better headquarters than right in Gotham City… the City of Bane? It only makes sense, since Batman is out of commission and recovering right now.  It's every man, woman, child, monster, vampire, werewolf… you get the picture… for "itself" right now!
The storyline is rich and should play easily into Wonder Woman, Zatanna, and JL Dark's timeline… and the artwork! Amancay Nahuelpan paints the best blue eyes on a child, but captures the torment of the living dead within one page. Classic comic-book storytelling!
Lettering was taken for granted long before The Batman Who Laughs, but lettering is an important part of comics. Tom Napolitano's work on this is perfect! When Frankenstein "speaks" or the undead "whisper", his green, black and white bubbles along with special fonts are unparalleled.
Conclusion
I have been waiting since the 1980s for a solid Monster storyline to appear in comics.  JL Dark is a perfect compliment to this new part of Gotham, but in the meantime, settle in with a good road map towards Monstertown in Gotham City Monsters #1.  You know what can happen in an alley in this city, but you never know what might be around the corner in this part of town!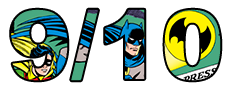 Images Courtesy Of DC Entertainment