"Seven Crises" – Part Five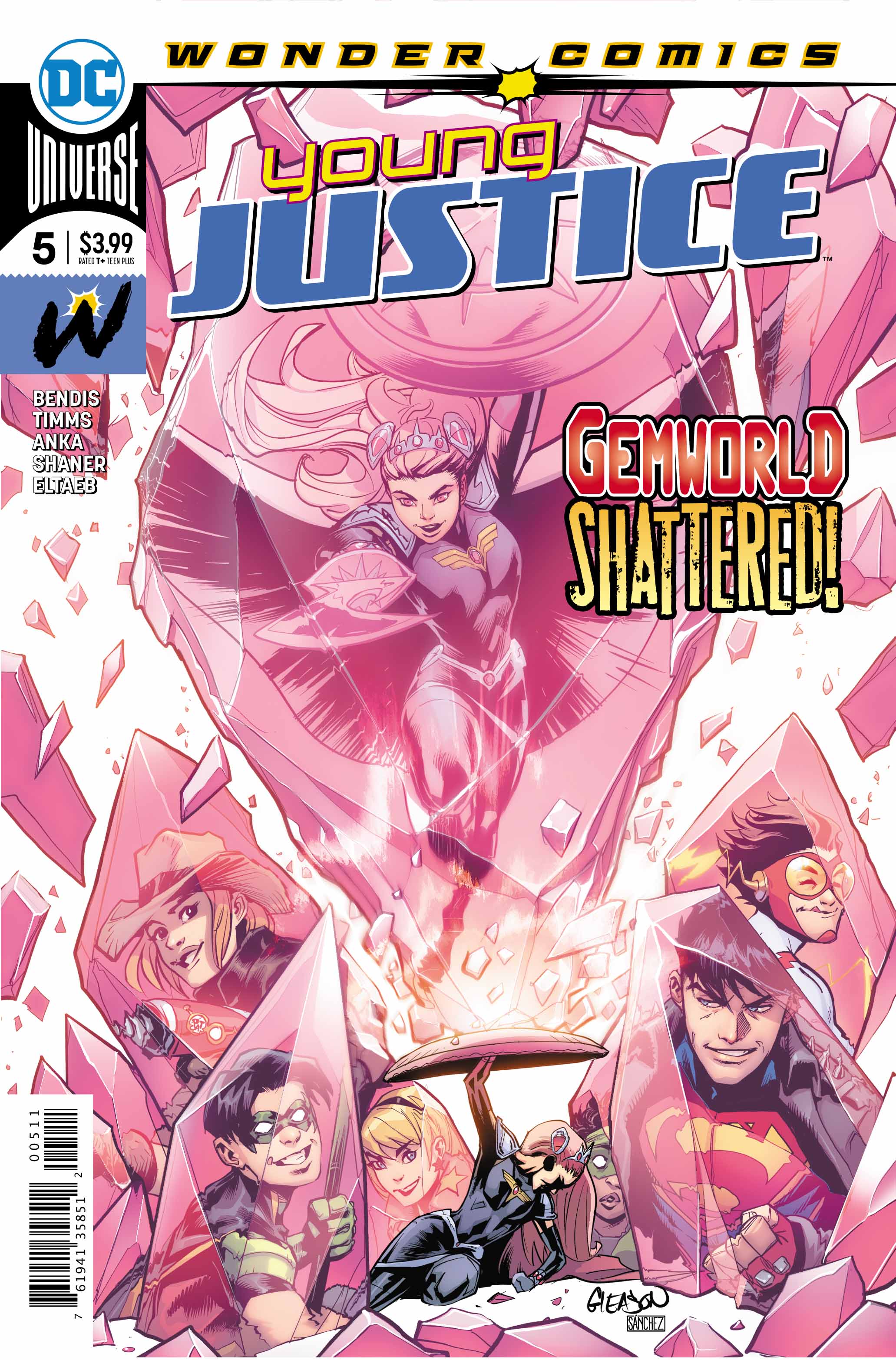 Writer: Brian Michael Bendis
Artists: John Timms, Kris Anka & Evan "Doc" Shaner
Color Artist: Gabe Eltaeb
Letterer: Wes Abbott
Review by Philip Clark
Young Justice #5 continues the run of a title that's just going from strength to strength. Another issue, and another glimpse into the past of a member of the team.
This time, we jump into the memory banks of Tim Drake. Bendis treats us to yet another beautiful hint at the past, and the future, of our heroes. With a surprise visit from Stephanie Brown, and Zatanna thrown into the mix and we have ourselves one amazing comic!
Teamwork Makes The Dream Work
I'm sorry but can we just talk about the teamwork in this issue, please? It is a joy to behold. This is a team that hasn't worked together in years, Superboy's been on a whole other planet for crying out loud! Plus, the new recruits have never fought with them at all.
Yet, they all sprung into action, and kicked butt like they a well oiled machine. I mean, the Bart and Conner duo is something to behold. Just look at the team busting out Lord Opal's prison! There are also some lovely fight scenes later on which really showcase a couple of character's abilities.
As much as I'd love to see them all bumbling over each other trying to escape the prison, what we got was so much better!
Not only is the writing of this issue spectacular, but so is the artwork. Once again, I'd like to refer you to the panels in which the team escape prison. The dynamic poses in those panels really make you feel like these are people capable of those amazing feats. Then there the emotional moments in the issue, drawn with such detail that you really feel for the characters!
Conclusion
Bendis is back at it with another spectacularly written issue. This man writes great dialogue. The interaction between the team is perfect. It's so natural, and casual. It genuinely feels like they've been together for years and know each other very well. While that might be true for some of them, three are brand new to the group. Give me more Teen Lantern lore Bendis!
Young Justice #5 is a perfectly beautiful comic.

Images Courtesy Of DC Entertainment