"Torch Songs" – Parts 1 and 2
Writer: Greg Weisman
Artist: Christopher Jones
Color Artist: Kelly Fitzpatrick
Letterer: Wes Abbott
We are mere hours away from the return of Young Justice on television. After the outcry from fans, a third season of the series is set to premiere on Friday, January 4 on the DC Universe streaming service. As if we needed any more reasons to be excited about the debut, DC Comics treated fans to a prequel comic.
Co-Producer of the series Greg Weisman wrote this story. He is joined by artist Christopher Jones, who served as artist on the first Young Justice book based on the series.
Young Justice Returns On Television And In Comics
The story picks up one year after the end of Season Two. As Batgirl points out in the issues, things seemed to be moving in a positive direction for Connor and M'gann, but there is still tension between the two. They, along with Barbara and Garfield, are sent to investigate the arrival of Psimon to the U.S. Their investigation leads them to a movie studio festival. Psimon uses his powers to trap the team.
Weisman and Jones are successful in making fans like me even more excited for the return of Young Justice. They still have the magic from six years ago. I like how they not only continue the storyline, but they also give us more of M'gann's backstory. Jones still manages to bridge the artwork of the show with his own style.
Conclusion
Prepare to "Get whelmed," people! These Young Justice: Outsiders digital exclusives capture the heart and spirit of the series that fans fell in love with, and I'm talking about the television series and the comic book series. Business as usual indeed! These two prequel issues are exclusive to the DC Universe streaming service. Be sure to catch them before the new series hits!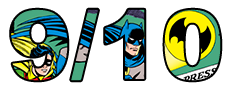 Cover Image Courtesy Of DC Entertainment