"Deathstroke Vs. Batman" – Part Three – "The Seven Waynes"
Writer: Priest
Artists: Larry Hama, Carlo Pagulayan, Roberto Villacara & Jason Paz
We're now halfway through the explosive confrontation between two of comics' most notorious badasses. Both these characters give as good as they get, so this story is proving itself  to be a thrill-ride of epic proportions. Chapter Three "The Seven Waynes" starts big, and the action doesn't let up.
To discover the truth behind who Robin's father actually is, Batman is slowly shutting down all of Deathstroke's ops. Slade has re-ignited a relationship with Talia, and set in motion his own anti-Wayne industries contingency plan. Batman may have finally bitten off more than he can chew.
Lucky Seven
Priest is one heck of a writer. The one thing I get from every page of this story is his love and respect for both these characters. I really come away from every issue feeling that he would much rather have these two guys just get along, and that both characters feel the exact same way. The trouble is that they're just too damn stubborn.
Then we get the brilliant look into the Batman/Bruce Wayne dynamic, and the great spotlight on the Matches Malone/fake identities that Batman has adopted over the years. Throw in the testimonials from Robin, Ravager and that stunning final page reveal, and Mr. Priest has delivered some A* storytelling.
Larry Hama's breakdowns, beautifully finished by pencillers Carlo Pagulayan and Roberto Viacara, alongside inker Jason Paz continue to impress. Check out the preview pages above! If that double-splash of Batman riding Deathstroke's flying car doesn't grab your attention, then you're dead inside! The level of detail on the vehicle and street scene below is absolutely sublime. The little messages on the billboards like "We legendary" and "Arrepentirse" (repent – translated from the Spanish) are priceless. Jeromy Cox' color work fits and enhances the visuals, without blurring details or detracting from the aforementioned intricacy of the line art.
Great stuff.
Conclusion
In less able hands this story would have been just another crossover. This creative team is both talented, and knowledgeable. Seeing The Human Dynamo again was a blast from the past and his inclusion in the story was shockingly effective. I can't wait for chapter four.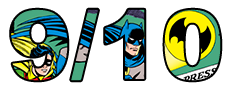 Images Courtesy Of DC Entertainment