"Vote Harley", Part Three
Writers: Jimmy Palmiotti, Amanda Conner
Artist: John Timms
The campaign is heating up in the latest issue of Harley Quinn. All hope was lost last issue when Harley succumbed to the Scarecrow's fear toxin during a televised debate. She got physical, and the city of New York saw it. But hold the phone, she's actually now in the lead. Issue #30 shows the surprising mayoral candidate working hard to please the citizens with some uncommon methods: more parks. Who knows more about the green than Poison Ivy? Nobody. However, the plans sort of backfires and Harley is about to go in front of another crowd when suddenly…. ah, I won't ruin it for you.
More of the same here. Harley Quinn is just plain fun. This issue retracts from any serious action, but that's because there doesn't need to be any. It's all about characters and pushing the narrative forward. Sure, we see some repercussions from last issue between the current evil mayor and the Scarecrow (poor henchmen never last long, do they?). Plus, the villainess is also getting romantic, and Red Tool seems to be a wild card more than ever. I love it! Jimmy Palmiotti and Amanda Conner have created such a wacky, wild and unpredictable world and it's exactly what we all need these days. This book doesn't take itself too seriously, and is a breathe of fresh air with each new issue. I'm really going to be sad once this team leaves after issue #34.
Artist John Timms has become pretty popular with Harley Quinn fans. He brings his A-game again here. We get a style that is slightly different than other artists on this book, yet easily blends in with this distinct world. Characters are colorful. Settings are fun. The dialogue is complimentary to the scene and not a distraction. Every panel looks joyful, which I find awesome for such a trippy and weird world. Timms, keep it going, man.
Conclusion
Overall, Harley Quinn #30 continues a fun run. Though lacking much action, the story moves forward with ease, ending in a surprising cliffhanger. If Harley were running for mayor where I live, Jimmy Palmiotti and Amanda Conner have convinced me that I'd vote for her.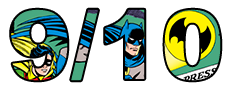 Images courtesy of DC Entertainment