"The Many Arms of Death" Part 2
Writers: Marguerite Bennett & James Tynion IV
Artist: Steve Epting
Caution: Few Spoilers Ahead!
We are finally, finally  back with the scarlett-haired crimefighter in her heroic crusade.  It has been over one month and five days since I've reviewed Batwoman's previous entry to her solo Rebirth series. Wow, it's been that long. Ever since then I've been, admittedly, aching to continue onwards with the scarlett-haired crimefighter's escapades.  Issue #1 left such a significant impression on me, both as a fan of the Batman mythos and a Batwoman newcomer. It was a superb introduction to Batwoman's solo series and really took care in establishing her characterisation. Now after reading issue #2; I can assure you the wait was definitely worth it!
Issue #2 opens with a flashback of Katherine Kane's (Batwoman) time recovering on the island of Coryana. With the aid of a man named Rafael and her former lover, Safiyah, Katherine was able to fully recover, albeit with a large scar on the side of her head. The story then commences where the last issue left off, with Batwoman holding the dead body of Rafael in her arms. Saddened by the loss of her old friend, Batwoman proceeds to carry Rafael's body to Safiyah's bar- The Desert Rose. As she hikes upwards to The Desert Rose, Batwoman goes into more depth about Safiyah and Coryana's history. Through her internal monologue, we learn that Safiyah was a lot more than just Batwoman's former lover and saviour. It turns out Safiyah actually governed the pirate nation of Coryana and kept the pirate warlords in check. We also learn that Coryana is a self-isolated nation and Safiyah ensured, with all of her power, to keep it that way.
As Batwoman finally she reaches The Desert Rose she is suddenly attacked by the same assassin from the last issue. It's soon revealed the assassin is Batwoman's old friend, Tahani. She has become a member of the "Many Arms of Death" and now goes by the alias of "Knife".
Knife.. really? Sorry for nitpicking, but that is the most generically, unoriginal name you can ever give to a character. It's like calling Aquaman 'Trident' or Katana…well 'Katana'.
Anyway, Batwoman is saved by the arrival of Safiyah's old crew and Knife escapes once again. Batwoman learns that after she left Coryana, Safiyah has gone missing. In her abscence, Coryana was invaded by the (obviously) sinister Kali Corporation, who plan to exploit the island for their own agenda.
I swear the art gets better with each issue. I was truly captivated by Steve Epting's incredible artwork. The level of detail he instills onto the characters' faces and bodies is astonishing. Epting even puts effort on the most minor details such as the characters' fingernails or the lines on their fingers. Steve Epting has possibly one of the best examples of character facial expressions I've ever seen! The work done on the character's expression evokes the right level of emotion and manages to visually translate the writing effectively. I thought the environmental art has improved significantly from the previous issue. I commend  Epting for rendering the environments more detailed. It was particularly evident in the part set within the Kali Corporation building. The skyscraper's intricately designed exterior and interior were by far the highlights of Issue #2's environmental design.
I thought the story had a really good pace to it, despite flashing back to the past midway through the issue. I adored how Marguerite Bennett & James Tynion IV were able to provide a short but solid insight into Coryana's history and slowly establish Batwoman's personal connection to the island. Once again, there is very little action with the only action scene involving Batwoman and Knife's fight. Albeit brief, I thought the fight scene was well-executed and offered some much needed thrills.
Conclusion
For those who have waited as long as I have for Issue #2, you will not be disappointed. Marguerite Bennet and James Tynion IV have done a grand job of depicting this strong female hero, by giving a layer of humanity to her character. Batwoman's return to Coryana is as much as a personal journey as it is a part of her crimefighting pursuits. Honestly, there is really nothing to fault in this issue, apart from Tahani's new… (ugh) name. However, Steve Epting's highly detailed, incredible art design helped me to forget about Tahani's new alias. Mr. Epting, keep up the fantastic work! I'm so looking forward to the next issue that I'm crossing fingers and hoping I won't have to wait another month. I appreciated they didn't include the Monster Venom again. It just gave issue #2 a more grounded feeling.
Also, on a slightly unrelated note, I appreciated the thoughtful tribute to the late 'Master Artist' Bernie Wrightson.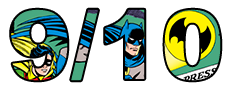 Image Courtesy of DC Entertainment