"Ghost of the Damned"
Writer: Scott Lobdell
Artist: Dexter Soy and Veronica Gandini
We are still in the process of understanding these thrown together anti-heroes. An Amazonian warrior, an ersatz Superman, and the Red Hood.
In the New 52 Red Hood and the Outlaws, the trio, Starfire, Roy Harper, and Jason Todd created a balanced, harmonic relationship. Their goals and morals were similar. However, in Lobdell's Rebirth, there is a shared disconnection between all three members (but this is what makes it exciting!), and we can feel it through Jason.
"But this isn't my story. Not entirely.

Just me in a pine box. Buried in secret."
He is learning about his counterparts just as the readers are, and we continue the search for Artemis' stolen bow in issue #9. We recall that Artemis is the Shim'Tar, a defender and mystical honour bestowed by the Gods of her culture. Only she can wield this bow that carries the powers of the sun.
The sun is a theme of power in DC, and what I appreciate is the pagan attachment to it. We all look for narratives that connect to us. I appreciate DC's distance from traditional monotheistic religions and instead focus on traditional myths. They carry a mix of magic, exploration, and tragedy; perfectly describing the dark trinity.
I am becoming invested in Bizzaro's story. He has turned into a more humanized character. Lobdell is doing a great job of making me fall in adoration for the guy. This is one of the first times where I get to see Bizzaro's humanity, he's "one of the good-guys." His nurturing instinct for Jason and Artemis is sweet, I can tell he doesn't carry a bad heart. I am curious to see his problem-solving skills with these unfamiliar villagers who are desperate for help.
Gandini's colours are gorgeous and adventurous. Combined with Soy's art, the create a wicked combination. My favourite features of Soy's work are the expressions he creates on his character's faces. With detailed lips, eyebrows, and shading, thus they invoke emotions. Jason is starting to look like his adoptive father, Bruce Wayne, which I'm loving. The Robins' relationship to him brings us back to what morals Jason originally began with. The death of Jason Todd is something I'll never get over, and it will pierce my heart over and over again. The image as he stands with his younger version is beautiful, and demonstrates his inner conflict. Forgetting himself, forgetting Batman, forgetting the Joker, he can't escape any of that.
Just like Artemis' can't escape. She's captured by who we can only presume is Akila, and literal and metaphorical entrapment. Soy's action sequences are beautiful. He creates a strong female stance and postures, realistic with both Akila's and Artemis' garments. As for Bizarro's depiction, kudos to him showing emotions and affection on this quasi-superhero. I am so eager to see Soy's continued work with Gandini's eye-popping talent.
Conclusion 
I am entranced by this series, I was originally heart-broken when the New 52 Red Hood and the Outlaws ended, because the chemistry was just so solid. However, reading this, I still appreciate the old, but the story tellers and the artists are doing a wonderful job of healing my heart. I will reiterate what I said in my last review, I love Scott Lobdell.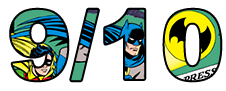 Images Courtesy of DC Entertainment